William T Dillard VMI Confederate Civil War Soldier WIA Parents Killed by Slaves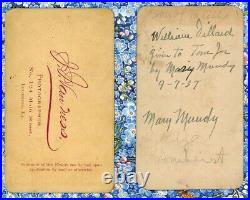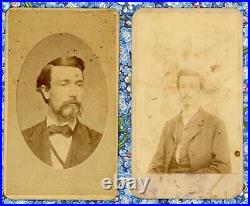 Dillard was pro-slavery, attended VMI, and fought in the Civil War, VA infantry, where he was wounded in the head and arm. His father, General Dillard, was murdered by some of his slaves in an 1863 uprising. CDVs are about 4" x 2.5" and are in good to very good antique condition. The bottom 1/4 or so of the lighter image is soft with slightly separated layers, probably exposed to humidity at some point.

New Market Cadet; Private, Co. Born- August 23, 1846, in Allen's Creek, Va.

Father- General Terisha Washington Dillard; Mother- Mary Elizabeth Dillard. Married- Mary Evans, on March 15, 1892. Children- William Evans Dillard, VMI, 1913. Matriculated to VMI from Allen's Creek, VA. At VMI 1 year, 1 month.

Military Record: entered VMI on Aug. 21, 1863; Wounded in Action (head, right leg) at New Market while serving as a Private with D Company; with Corps in Richmond trenches during the fall of 1864; spent December, 1864 in a Richmond hospital due to pneumonia; left on medical furlough on Dec. 12, 1864 and was unable to return to service; paroled in Amherst County on May 23, 1865 as a Cadet Corporal with Company A. Post War Career: At University of Virginia 1873-74; Amherst County Court Judge 1879-97. 4, 1898 in Amherst County.


Civil War Confederate
Links
Contact
Privacy Policy
Terms of service