Confederate Poem On 1864 $50 Bill CIVIL War Currency Note Money A. J. Twiggs Pcgs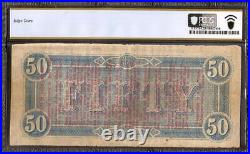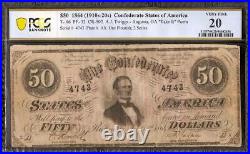 Hit the "See full description" link below for sharper images. This note has a poem on the back that was found written on another Confederate bill at the end of the Civil War.

It's graded Very Fine 20 by PCGS. Comes in a New holder with thin layer still attached. View the unaltered high-resolution scans and see if you like it. Full Poem is shown below. Twiggs, Confederate Veteran, Augusta, Ga.

View My Other Items For Sale. Add me to your Favorite Sellers. Representing nothing on God's earth now, And naught in the waters below it, As the pledge of a nation that's dead and gone, Keep it, dear friend, and show it.

Show it to those who will lend an ear To the tale that this trifle can tell Of Liberty born of the patriot's dream, Of a storm-cradled nation that fell. Too poor to possess the precious ores, And too much of a stranger to borrow, We issued to-day our promise to pay, And hoped to redeem on the morrow. The days rolled by and weeks became years, But our coffers were empty still; Coin was so rare that the treasury'd quake If a dollar should drop in the till. But the faith that was in us was strong, indeed, And our poverty well we discerned, And this little check represented the pay That our suffering veterans earned. We knew it had hardly a value in gold, Yet as gold each soldier received it; It gazed in our eyes with a promise to pay, And each Southern patriot believed it.

But our boys thought little of price or of pay, Or of bills that were overdue; We knew if it brought us our bread to-day,'Twas the best our poor country could do. Keep it, it tells all our history o'er, From the birth of our dream to its last; Modest, and born of the Angel Hope, Like our hope of success, it passed. Get Supersized Images & Free Image Hosting.




Civil War Confederate
Links
Contact
Privacy Policy
Terms of service