Confederate Military Appointment Samuel Saunders Lt. Col. 42nd Virginia Infantry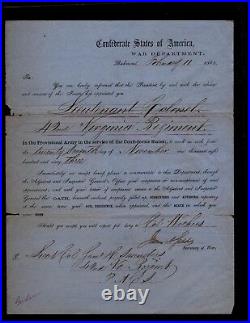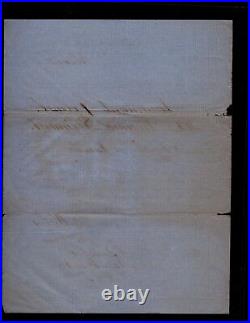 This is an original, absolutely-authentic, pre-printed "to be filled in" document Confederate States of America, War Department. Richmond, ____________ 1864 that was completed to appoint Samuel Hyde Saunders as a Major in the 42nd Virginia Regiment. "Major, 42nd Virginia Regiment" completed as the appointment. "Twenty-seventh" day of "November" "1863" to report to Col. One of the most desirable and historic Confederate Infantry Units.

Signed by Confederate Secretary of War James A. Lee" in pink Ink in the lower left - the same pink ink used to underline "42nd Virginia Regiment. I believe this is a clerk's notation of some sort and do not represent this as the signature or endorsement of General Robert E. Lee, unless you think otherwise.

John Chapla's book 42nd Virginia Infantry H. 1860 census, age 30, farmer, Retreat Post Office, Franklin County. Enlisted 6/17/1861 at Rocky Mount, Franklin County as 2nd Lt. K at various times through 2/18/1862 when furloughed 30 days. Lynchburg Hospital then furloughed 10/24/1862 on sick leave.

Present through 1/2/1863 when examined for promotion and found to be a'brave man of good character, but deficient in military knowledge. Brigade commander recommended promotion to major 1/23/1863. Present as company commander until wounded 5/2-3/1863 at Chancellorsville. Richmond Hospital 5/6-9/1863 when sent to Liberty (Bedford).

Regimental commander by 7/30/1863 to 8/30/1863. Present and assumed duty of acting major by 11/30/1863. Col by 1/5/1864 when furloughed for 15 days.

Present and appointed to command 3rd regimental group, Terry's Brigade (10th, 23rd, 37th Virginia Infantry Regiments) by 8/20/1864. Wounded in the left arm 9/19/1864 at Winchester. At Charlottesville and Lynchburg hospitals through 1/26/1865. Present, commanding regiment, by 3/2/1865 when departed on sick leave.

Absent through 6/2/1865 when paroled at Rocky Mount, Franklin County. According to Robert Krick's book. Samuel Hyde Saunders was a Farmer in Franklin Counting in 1860 and was 30 years old. He accepted a commission as the Lieutenant of Company K of the 42nd Virginia Infantry in 1861 and was appointed Captain on April 21, 1862 and a Lt. Colonel on November 29, 1863.

He was Wounded at Chancellorsville. He was also wounded again (in the arm) at Payne's Farm in November 1863 and again (also in the arm) in September 1864.

He was Paroled at Franklin Court House on June 5, 1863 and was known to be alive in 1870 and living in Franklin County. Chapla's 42nd Virginia infantry begins Chapter 5 (1864-65 Loss of Identity, Final Battles, and Surrender) with The 42nd spent most of the four months of the new year in relative comfort and ease in winter quarters at Mount Pisgah Church [west of Chancellorsville, north of the town of Orange and south of the town of Locust Dale].. Leading those drills was Col. Withers, promoted to command of the regiment on February 11th. Also on that day, Samuel H. Saunders was promoted [to major and then] to Lieutenant Colonel [on the same day] and Jesse M.

All three promotions came in recognition of performance at Payne's Farm. For the first time since September 1861, the 42nd had a full complement of field officers present. Overall in excellent condition considering. Some separation at each end of the folds from 1/2 inch on one to about 1 1/2 inches on one.

Some toning along the folds. Ink erosion in the "C" of Colonel.

Weak on the top fold Some edge wear, especially at left. I will work to make you happy. This item is in the category "Collectibles\Militaria\Civil War (1861-65)\Original Period Items\Other Civil War Original Items".

The seller is "ivymontcpa" and is located in this country: US. This item can be shipped worldwide.