Confederate Captain Civil War Wool Kepi, Custom Tailored Sz. 57-57 1/2cm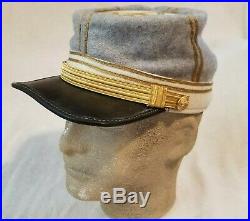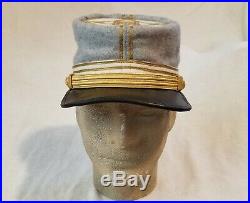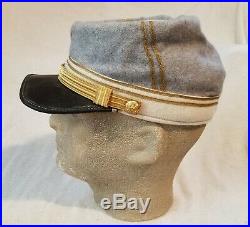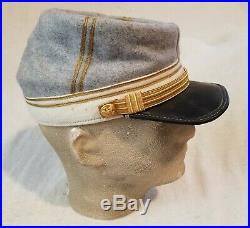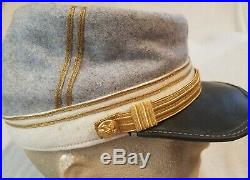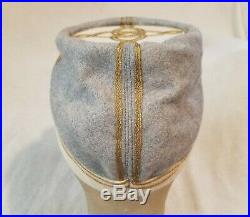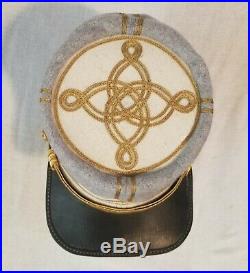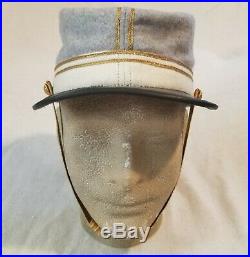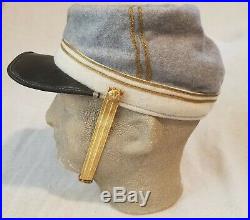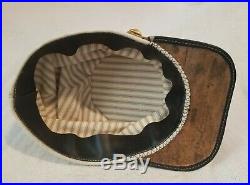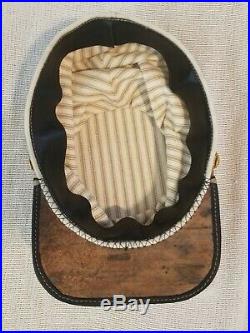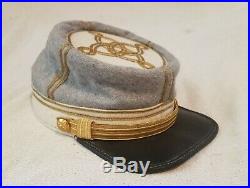 This Confederate kepi is made out of a thick heathered light grey wool side panels and then a white wool top and outer brim with a homespun cotton liner. It is then decorated in vintage french wire mesh braid (same braid used on originals).

There are 2 rows of the braid signifying the rank of Captain. The chin strap is fully functional and is also made out of a vintage metal woven trim just as the originals.

The trims used on this hat are original late 1800's french production just like the originals. Only difference is this was produced now not then. The bill is made out of a thick vintage french leather. Please read the additional description for a more detailed description of our products.

Here at "The Threads of War", We are proud to bring you one of our most beautiful custom tailored, hand made American Civil War hats. This is not your typical run of the mill cheap reproduction from China or Pakistan. All of our wool is vintage wool from Woolrich Pennsylvania and other areas of America. We also use some vintage wools from Europe as well. Our trims are original late 1800's & early 1900's productions imported from France just like the original.

The trims are all real metal, metallic made. Our trims are no longer in production either so once we are out of them, it is gone. All trims we have were produced pre-1900's in France so there will be slight patina on some of them.

The leather we use (for bills and chin straps), is also vintage leather imported from France. We acquire old leather items and reconstruct them as needed.

Leathers are early to mid 1900's production so you know it is the good stuff. Not the leather like they're producing today. The bills are a 1/8" to 3/16" thick with a leather wrapped edge and are double stitched to the hat itself guaranteeing it will never separate from the hat. The leather chin strap is fully functional.

Chin straps made out of metallic trim vary in functionality, some are 2 piece and move and others are stationary single piece for looks like some of the originals officers wore. The inner liner is a homespun cotton bought from organic fabric producers located all over the United States. Most of it is also vintage but some is manufactured in current time.

The buttons we use are post American Civil War production (1870's to 1890's) and are produced by the same companies as the originals on the same machines with the same dye's just a few years after the war ended. Most are Hortsmann out of Philadelphia, Pa.

Same goes for the buttons as the trim, once they are gone that is the end of them. The sweatbands we use vary from thin cow leather to goat or sheep's leather depending on what impression the hat is made by. All American made leathers cut straight from the hide not manufactured. The correct hard inner disk on the top that is made out of the same materials and like the originals made to be water resistant and never lose its shape.

All our items are made on original 1800's sewing machines or hand sewn. We do not use modern machines. Our latest machine used is a 1913 White Rotary. You will not be disappointed.

If you do not agree that our hats are the best you will ever own you may return it. If oversea buyers would like something different, please let us know and we will adjust as needed. The item "Confederate Captain Civil War Wool Kepi, Custom Tailored Sz.

57-57 1/2cm" is in sale since Tuesday, September 24, 2019. This item is in the category "Collectibles\Militaria\Civil War (1861-65)\Reenactment & Reproductions\Uniforms". The seller is "the-threads-of-war" and is located in Williamsport, Pennsylvania.

This item can be shipped worldwide.
Country/Region of Manufacture: United States
Custom Tailored: Vintage Wool & Leather, Original Buttons