CIVIL War Prison Torture 1869 Confederate Rebel South Andersonville Slavery Old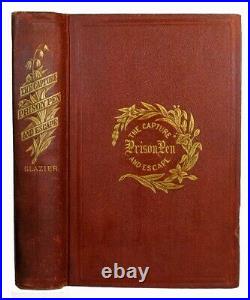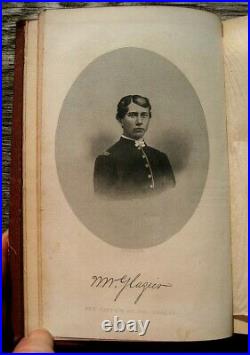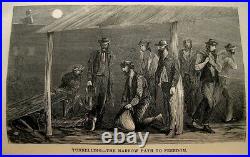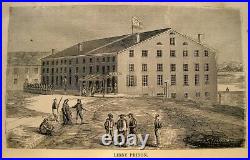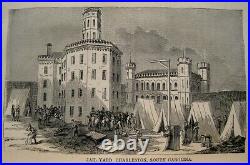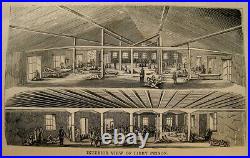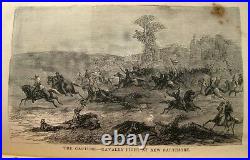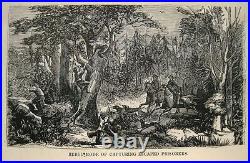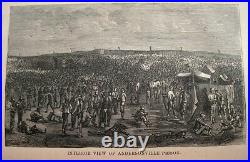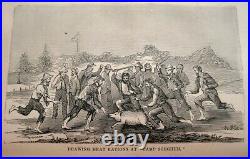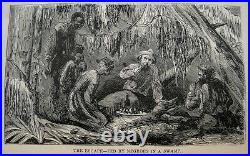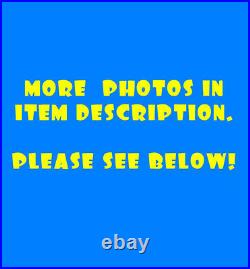 Note: Many of my clients are scholars and researchers seeking specific information related to their field of interest. For their convenience I include the following details directly from this book. Places and Historical Subject Matter Discussed/Illustrated in this Book (See Full Contents Below): Civil War Great Rebellion North South Union Confederate Yankee Rebel U. CSA Prisons Prisoners of War Prison Life Libby Richmond Danville Macon Savannah Charleston Columbia Sylvania South Carolina Belle Isle Millen Salisbury Andersonville Georgia Capture Escape Trial Spy New York Volunteer Cavalry Texas Scouts Bull Run Harris Light Cavalry Munson's Hill Arlington Heights Manassas Army of the Potomac Peninsula Army of Northern Virginia Rappahannock Falmouth Fredericksburg Culpepper Battle of Cedar Mountain Peninsular Campaign Brandy Station Aldie Middleburg Upperville Maryland Pennsylvania Gettysburg Rapidan James City Warrenton Jail Gordonsville John Morgan Raider Castle Thunder Charlotte Augusta Georgia Macon Negro Morris Island Swamp Angel Dead Line Captain Wirz Hospital Florence. A BRUTAL DESCENT INTO THE HELLISH REALMS OF CONFEDERATE PRISONS. GRAPHIC EYEWITNESS ACCOUNTS OF BRUTAL PUNISHMENTS AND SQUALID CONDITIONS. ENTER SOUTHERN HOUSES OF HORROR RUN BY SADISTIC JAILERS WITH THE POWER TO INFLICT PAIN AND WITHHOLD THE BASIC ESSENTIALS OF LIFE.

EXPERIENCE THE REBEL HELLHOLES THROUGH THE EYES OF THE AUTHOR AND OTHER LOST SOULS WHO WERE AMONG THE LUCKY FEW TO EMERGE FROM CONFEDERATE CAPTIVITY ALIVE. THE CAPTURE, THE PRISON PEN AND THE ESCAPE Giving A Complete History of Prison Life in the South, Principally At Richmond, Danville, Macon, Savannah, Charleston, Columbia, Belle Isle, Millin, Salisbury, and Andersonville: Describing the Arrival of Prisoners, Plans of Escape, with Numerous and Varied Incidents and Anecdotes of Prison Life; Embracing, Also, the Adventures of the Authors Escape from Columbia, S. Recapture, Subsequent Escape, Recapture, Trial As a Spy, and Final Escape from Sylvania, Georgia. Glazier, Brevet Captain New York Volunteer Cavalry.

Published in 1870 by R. 7.5 x 5 cloth hardcover edition. Mild exterior wear as shown in photo. Text is clean and complete. Original owner's name at front of book, Henry N.

No torn, loose or missing pages. This is a vivid, graphic account of the brutal punishments and squalid, inhuman conditions suffered by Union prisoners at the hands of their Confederate jailers. The author contends that the miseries he and other prisoners suffered were part of an orchestrated Confederate plan to permanently break them so that they would never be able to return to battle. Captain Willard Glazier of the New York Volunteer Cavalry was 22 years old when his horse was shot out from under him at New Baltimore and he was captured by Rebel forces.

From the day he was taken prisoner, Glazier kept a secret journal to record the daily details of his incarceration a manuscript that was later smuggled out of prison and carried North, and which is now reproduced and preserved in this book. Glazier fought for survival and freedom at every step of his captivity. According to his obituary, printed in the New York Times in 1905. While in Libby Prison Glazier assisted in the famous tunnel scheme but was unable to escape.

Transferred to Columbia, he made his escape on November 26, 1864, but was captured by a Confederate outpost on Dec. 15, escaped again on the 16th, was retaken on the same day by a company of Texas Scouts under Gen. Wheeler and was tried as a spy at Springfield on Dec. He finally escaped from Sylvania, Ga. 19th and reached the Federal lines at Savannah on the 23d.

Glaziers experiences are vividly related in his own words -- through both his journal entries and his recollections. For this book he also recruited fellow survivors of the Confederate prisons to share their own harrowing experiences as inmates of the prison-pen.

In the Foreword he writes. The following pages are offered to inquiring minds with the hope that they may throw some light upon the inhuman treatment we received in Southern prisons. They do not pretend to give a complete history of Prison Life in the South only a part. Others are contributing sketches for the dark picture, which at the best, can but poorly illustrate the fearful atrocities of our brutal keepers.

We are led to conclude by the usage which we have received at the hands of our captors, that it was their deliberate intention to maim, and thereby render us completely unfit for future service. They have seen us, with apparent satisfaction, become so much reduced in clothing as to have scarcely rags for a covering; they have condemned us to hunger and thirst, pain and weariness, affliction and misery in every conceivable form, so that thousands of our unfortunate fellow beings have anxious awaited the approach of the King of Terrors as the arrival of a welcome friend that had come to bring them in happy release. I had no thoughts of publishing a book until several weeks after my escape. I kept a diary and journal from the time of my capture. Upon reading portions of it to some of my friends, they persuaded me to amplify, and put it in a readable form. The rough manuscript was, for the most part, written during my imprisonment at Columbia, sitting on the ground, and writing on my knee. Captain Kelly, 1st Kentucky Cavalry, brought a part of that manuscript through the lines by concealing it in the crown of an old regulation hat, which he wore during his escape. I smuggled the remainder through in the lining of my jacket.

CHAPTER ONE: The Author's Enlistment and Service in the Field Federal Defeat at Bull Run Northern Patriotism The President's Call Organization of the Harris Light Cavalry Ordered to Washington Encampment at Munson's Hill At Arlington Heights McClellan's Advance to Manassas Transfer of the Army of the Potomac to the Peninsula The Harris Light Remains with the Army of Northern Virginia McDowell's Advance to the Rappahannock Night Attack at Falmouth Occupation of Fredericksburg Raids during the Spring and Summer of 1862 The Harris Light Ordered to join Gen. Pope's Forces at Culpepper Battle of Cedar Mountain The Peninsular Campaign Abandoned First Cavalry Fight at Brandy Station Bull Run No.

2 The Campaign in Maryland and Pennsylvania Battle of Fredericksburg Death of Gen. Bayard Kilpatrick's Raid around Lee's Army Second Cavalry Engagement at Brandy Station Fighting the Rebel Gen. Stuart at Aldie, Middleburg, and Upperville Second Campaign in Maryland and Pennsylvania Gettysburg Captures on the Night of July 4th Lee's Retreat to the Rapidan.

CHAPTER TWO: The Capture Situation of the Army of the Potomac in October, 1863 Gen. Meade thought equal to the Emergency Action of the Rebels Gen. Lee's Flank Movement Cavalry Fight at James City The Army retires to Manassas Cavalry Fight at Brandy Station The Grand Charge Gallant Conduct of Gens. Kilpatrick and Davies The Rebel Lines Broken Kilpatrick joins Buford A third Engagement anticipated on the old Bull Run Battle-field Great Alarm caused by the Accidental Burning of an Ammunition Wagon Preparations for Battle The Battle of Bristoe The Federal Arms Victorious A Reconnoissance Horses and Men Drowned while Fording Bull Run Skirmishing with Rebel Cavalry, October 18th Cavalry Fight at New Baltimore The Author's Horse shot under him His Capture and Lodgement in Warrenton Jail March from Warrenton to Culpepper Sufferings of the Prisoners Incidents at Culpepper Removal to Orange Court House At Gordonsville Registering Names The Guard drunk An Issue of Rations Off for Richmond October 19 to October 23, 1863. Bragg's Defeat Plans for Escape Amusements An Escape and its Consequences Barbarous Treatment of the Sick November 8 to December 16, 1863. CHAPTER FIVE: Return from the Hospital An Order from Gen. Wessells Mosby, the Rebel Guerrilla, visits Libby Great Commotion in Richmond Gen. Lee reported to be defeated Notice from Major Turner to be ready to leave the Prison Each Man receives a "Corn Dodger" Farewell to Libby December 16, 1863 to May 7, 1861. CHAPTER SIX: Arrival at Danville The Journey Escapes from the Cars Firing upon Prisoners An Attempt to disarm the Guard Military Importance of Danville Rations Sleeping Spoon-fashion News from the Army Tunnelling commenced Gen. Averill's Raid Joy of the Prisoners Uneasiness of the Rebels Once more on the Rail From Danville to Macon Meeting Conscripts for Lee's Army Marching In North Carolina Mud My Attempt to escape In Box-cars again An Unpleasant Situation Arrival at Charlotte Singing the "Star-Spangled Banner" Loyalty of the Citizens An Issue of Rations Attempts to escape Climbing Trees and digging Holes in the Ground Amusing Incidents From Charlotte to Columbia, South Carolina From Columbia to Augusta, Georgia From Augusta to Macon May 7th to May 17th, 1864. CHAPTER SEVEN: At Macon, Georgia "Camp Oglethorpe" Major Turner at Macon The "Dead Line" Firing upon a Prisoner New Arrivals Rations Digging Tunnels Tunnels Discovered by the Rebels Punishment Appeal to Capt. Grierson Rebel Favors New Tunnels Plans for Escape Frustrated Sentinels Instructed to shoot Prisoners Special Orders No. 6 Personal Attack of the Scurvy Fourth of July in the Prison-Pen Music, Speeches, Toasts, etc. The Miniature Star-Spangled Banner The Prison Authorities March in a Battalion of Armed Men and Compel us to Disperse Special Orders No.

CHAPTER EIGHT: Savannah, Georgia " Camp Davidson " Gen. Stoneman's Raid Kind Treatment at Savannah A Comparison of Rebel Prisons Better Rations Brick Ovens Tunnelling Our Scheme Exposed by a Cow Joy without Death within the Stockade Inhumanity of Col. Wayne " Nothing but a Damned Yankee " Kindness of Ladies Amusements The pursuit of Knowledge Under Difficulties Off for Charleston July 29 to September 12,1864. CHAPTER NINE: At Charleston "Under Fire" Arrival in the City Our March Down Coming Street In the Jail Yard Charleston Jail and its Inmates Sufferings of the Negro Prisoners A Friend Inclined to be Distrustful An act of True Nobleness Genuine Patriotism A Higher Language than the Written The Last Visit Negro Melodies Meeting Prisoners from Andersonville Their Stories The Ground a Mass of Lice Awful Condition of the Hospital Great Suffering Living Death Doherty's description A Captain Recognizes a Member of his Company just at the Point of Death Prisoners Die after being told they are not in need of Medical Treatment A Thunder Storm Refused Admission to the Jail September 12 to September 29,1864.

CHAPTER TEN: Roper Hospital The Parole Better Prospects The Burnt District Shells a Subject of Discussion Morris Island The Swamp Angel Shelling the City Sisters of Charity Yellow Fever Our Enlisted Men on Charleston Race Course Orders to "Pack up" Gen. Foster's Retaliation has a Good Effect Farewell to Charleston Poem by Lieut. Ogden September 29 to October 5, 1864.

CHAPTER ELEVEN: Removal to Columbia, South Carolina Description of the Journey from Charleston Cattle Cars Defined Kindness of the Guard Arrival at Columbia Bayoneting a Prisoner A Terrific Rain Storm Peace Movements Practical Infamy of the Rebels They urge the Prisoners to take a Parole Threatened with Confinement in old Tobacco Houses. CHAPTER TWELVE: Camp Sorghum" News from the Army An Issue of Clothing Received from our Sanitary Commission Joy of the Prisoners The Presidential Election Political Discussions Manner of Voting The Result An Escape A Prisoner Shot Rebel Eloquence "Long Live the Dutchman" "Rum" deprives him of Authority Thoughts of Home Allowed to get Wood by taking a Parole My old Shoes Turning Night into Day A Prisoner caught by Hounds Drawing Meat Ration at "Camp Sorghum Gov. CHAPTER THIRTEEN: The Escape from Columbia My Companion Halted by the Guard Acting the Part of Paroled Prisoners Passing the "Dead Line" Meeting Negroes Travelling with a Guide Blind Roads Challenged by a Picket "I dun no what make dem Niggers run so" Ingenuity of our Guide Reserve of the Picket Searching for my Companion under Difficulties Subsisting upon Blueberries Appealing to Sympathy Kindness of Mrs. Taylor A Negro Prayer-meeting How we secured a Paper Crossing the North Edisto The Road terminates in a Swamp Other Difficulties My Companion's Misfortune Pursued by Bushwhackers Meeting Escaped Prisoners at Aiken Approaching a Negro Concealed in a Corn-fodder House An Attempt to travel by Rail We hear Cannonading Greatly encouraged Followed by a Hound A Happy Mistake Crossing the Savannah in a Cypress Canoe Bailing for Life Alligators The North Star Cavalry Patrol A Negro Cobbler repairs my Shoes November 26 to December 11, 1864.

CHAPTER FOURTEEN: Following the Rebel Army in Georgia Fording Streams We run to prevent Chilling Striking the Trail of the Armies Appearance of the Country Pursued by Hounds Narrow Escape from Fire Interview with a Planter He thinks me a Rebel Officer Rations in the Pantry Inquiring for Gen. Wheeler's Cavalry We obtain all of the Particulars Meeting Negroes "De Planter was a Bushwhacker" Unpleasant Predicament Met a Rebel Officer by Accident My Horse shot at Waynesboro My Regiment the Third South Carolina Cavalry Discussing Present Prospects The Proposed Meeting at Mr. Brown's Roasting Corn Accidentally seen by a Planter A Critical Situation Hounds on Track Flanking a Picket Duping Rebel Couriers Crossing Big Ebenezer Creek Burying one of our own Soldiers A Dashing Ride on Horses left by the Rebel Couriers Concealed near a Picket December 11 to December 16, 1864. CHAPTER FIFTEEN: Re-captured by a Rebel Picket The Challenge Arrival at the Reserve of the Picket Regarded as a Yankee Spy Kindness of a Rebel Soldier An Attempt to bribe the Guard "Let'em stretch Hemp" Apparently unable to walk Once more in the Saddle The Escape and Pursuit Recaptured by Texans At the Rebel Gen. Wheeler's Head-quarters Confinement in the County Jail at Springfield, Georgia.

CHAPTER SIXTEEN: The Escape from Sylvania, Georgia The Plan We take Rations Intended for the Rebel Guard Hounds to be put on Track Confiding our Plans to a Negro Concealed in an old Pine-tree Top In a Swamp near Springfield Rebel Deserters The Interview with Mrs. Keyton Turning the Tables Ill-fated Dixie Gen. Sherman just where they wanted him Startled by Hounds Bushwhackers in Pursuit A Narrow Escape An Amusing Incident Efforts to obtain a Guide Colored Man No. 3 " I'll do it, Massa, if God be my Helper" Approaching the Outpost Within the Federal Lines December 20 to December 24, 1864. CHAPTER SEVENTEEN: Homeward Round Arrival at Savannah Not easily Identified Regarded as Spies Pronounced Genuine Union Soldiers Unsettled State of the Army Wright succeeds in finding his Regiment after a long Search Kindness of Capt.

Swallow My Christmas Dinner At Kilpatrick's Head-quarters on the Ogeechee River Return to Savannah Furnished Transportation to New York On Board the Steamship Planter Transferred to the Delaware Arrival at Hilton Head On Board the Ashland In a Gale off Cape Hatteras Sea-sickness Arrival at New York December 24,1864, to Jan. CHAPTER EIGHTEEN: At Millen Testimony of Sgt. Goodyear The Inclosure Average Number of Deaths per Day Daily Allowance of nations Excitement at the Presidential Election Inducements to enter the Rebel Service. CHAPTER NINETEEN: Salisbury Prison Experience of Mr.

Richardson Great Suffering for want of Bread and Shelter "Give them Quarter Rations " Terrible Condition of the Hospitals Salisbury Penitentiary as Viewed by Mr. Brown The Prisoners driven to Desperation. CHAPTER TWENTY: At Andersonville Testimony of Ira E. Forbes His Capture and Removal to Camp Sumter Traffic with the Rebels Generosity of the Citizens of Charleston Arrival at Andersonville Capt. Wirz The "Dead Line" Shooting Prisoners Frightful Mortality Burial of the Dead Intense Mental Trials Ravages of Scurvy Awful Condition of the Hospital Removal of Prisoners to Florence, South Carolina Union Prisoners from Dixie's Sunny Land Rations Issued by the United States Government to Rebel Prisoners of War Statement of Clothing Issued to Rebel Prisoners of War at Fort Delaware.

APPENDIX: Containing the Name, Rank, Regiment, and Post Office Address of the Officers who were imprisoned at Richmond, Danville, Macon, Savannah, Charleston, Columbia, Charlotte, Raleigh and Goldsborough, 1864 and 1865. DO NOT MISS THIS RARE OPPORTUNITY TO OWN THE CAPTURE, THE PRISON-PEN, AND ESCAPE TRUE LIFE CIVIL WAR ACCOUNTS OF CRUELTY AND INHUMANITY BUT AT THE SAME TIME INSPIRATIONAL TESTAMENTS TO HUMAN RESOURCEFULNESS AND THE WILL TO SURVIVE. Remember folks, this is an 1869 original. This book is 151 years old.

Remember folks, this is a original. This book is years old. Please be sure to add me to your List of Favorite Sellers.

Don't miss out on any of my latest listings. NEETMOK BOOKS IS A REGISTERED MEMBER OF EBAYS VERO PROGRAM. When you prepare your listings you generally should use only material text, photographs, etc.

And trademarks/names that you created or own yourself or licensed from the owners. Item description text; lists of contents, lists of illustrations/photos; scanned images, etc. UNAUTHORIZED USE OF ITEM DESCRIPTION TEXT INCLUDING SUMMARIES OF CONTENTS, ILLUSTRATIONS, ETC. PHOTOS OR OTHER PROPRIETARY INTELLECTUAL PROPERTY IS STRICTLY PROHIBITED AND WILL BE REPORTED TO EBAYS VERO DEPARTMENT FOR IMMEDIATE ACTION. The item "CIVIL WAR PRISON TORTURE 1869 CONFEDERATE REBEL SOUTH ANDERSONVILLE SLAVERY OLD" is in sale since Sunday, September 27, 2020. This item is in the category "Books\Antiquarian & Collectible". The seller is "neetmok" and is located in South Salem, New York. This item can be shipped worldwide.
Year Printed: 1869
Country/Region of Manufacture: United States
Topic: Civil War (1861-65)
Binding: Hardcover
Region: North America
Author: Glazier
Subject: Military & War
Original/Facsimile: Original
Language: English
Publisher: Goodwin
Place of Publication: Hartford
Special Attributes: Illustrated