CIVIL War Csa Rebel Us Union Confederate M1853 Knapsack Field Pack-tarred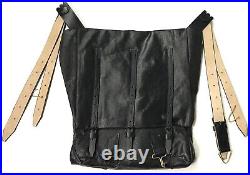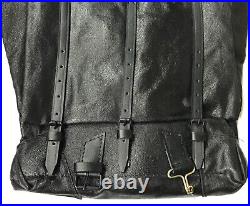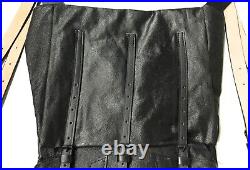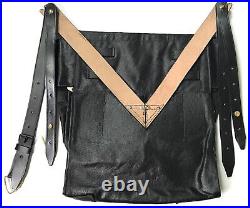 CIVIL WAR CSA REBEL US UNION CONFEDERATE M1853 KNAPSACK FIELD PACK-TARRED. Ederal Double Bag Knapsack, U. Army Regulation M1853/55 Non-Rigid type. With shoulder straps and brass hooks. Exact configuration of the original pattern.
Canvas coated with a durable tar like substance similar to the originals. This regulation pattern consisting of two bags or compartments, a front section that folded into a partial envelope and rear section made of four triangular flaps that buckled together, joined by a top strip with two sewn leather loops for the blanket straps. Knapsack was fitted with 2 wide leather shoulder straps that terminated with brass attachment points allowing for connection to the armpit and adjustable cross (breast) straps. Leather straps throughout, with rawhide type ties on the inside bag like the original. Brass hardware and correct japanned roller buckles make this one of the best knapsacks on the market for both US and CS usage.
Tabs sewn onto the top to accommodate the blanket roll straps (Not Inculded- Available below). By all period accounts the most commonly issued type of field pack capable of carrying 40 to 50 pounds of personal kit. Found in an infinite number of variations including state models and examples made for the militia, sometimes with stenciled unit designation. BRAND NEW FIELD GRADE REPRODUCTION.

Civil War Confederate
Links
Contact
Privacy Policy
Terms of service