CIVIL War Confederate General William Starke Courtmartial Order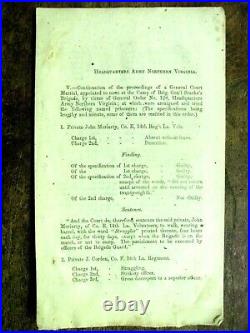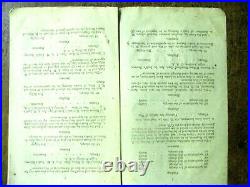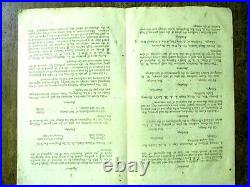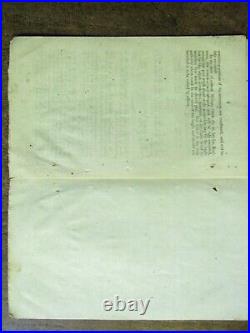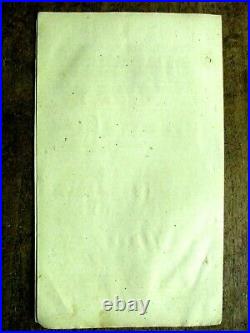 General William Edwin Starke of Brunswick County, Virginia was a notable Confederate commander, commanding regiments and in 1862 was the 2nd Louisiana Brigade commander at 2nd Manassas and at Antietam where he was killed in action. An original scarce Army of Northern Virginia General Order issued at HQ, continuing the Proceedings of a General Court-martial at the camp of Brig Gen'l Stark's brigade detailing the charges against 11 prisoners of Louisiana units, and of Capt Jno. Lusk's Battery (The Rockbridge Light Artillery, Virginia) with findings, some of the men are sentenced to march wearing a barrel marked "Straggler" for 30 days, also some men sentenced work on a chain gang. The prisoners include Lieutenant Leon Iastramski, violating "the 9th Article of War" striking an officer", given leniency "on account of his erring through motives of humanity. The 8 x 5 ptd Order complete, paginated 1-6pp with back page blank. Is on distinctive poor quality Confederate issue papers tock. Edge wear, age stains, 4 binding holes in left margin, but complete and VG Overall. Lt " Iastramski" (Jastyremski) served honorably and later rose to Mayor of Baton Rouge, Louisiana, The Order is undated and was issued sometime in 1862. General & Special Orders were issued to communicate commands and information to the Army. Each order, issued in writing by a command, was then printed for distribution to each unit, either at an army department headquarter or by commanders at local headquarters, sometimes in the field on portable printing presses.

The orders were then issued to regiments, often to be read aloud to the troops. General Orders were printed as issued with date & location; at the end of a year the regimental adjutant might retain them loose or simply string bind them by punching holes and stringing on ¼" red cloth string tape (the source of the old expression "government red tape). Sometimes an officer or HQ clerk might take a group of orders to a local print shop or bookbinder and have an accumulation bound with leather or cloth covers.

Usually, American Military Orders of the 19. Century including Civil War era were printed on an 8 x 5 sheet of quality rag paper. NOTE: Any repair to a paper item is listed. I use only museum curator approved archival repair tape.

All items are unconditionally guaranteed to be authentic and in the condition as described. PLEASE READ DETAILS OF THE ITEM DESCRIPTION. I TRY TO DESCRIBE ALL ITEMS ACCURATELY.




Civil War Confederate
Links
Contact
Privacy Policy
Terms of service