Civil War Confederate Bond Authorized By The Act Of Congress Of Feb 20,1863 Lot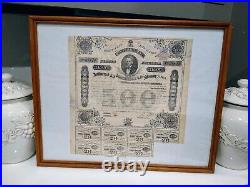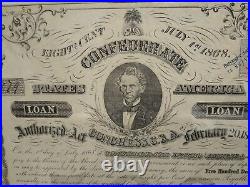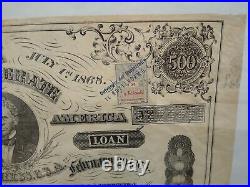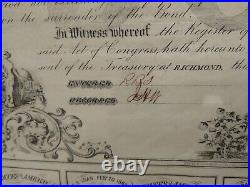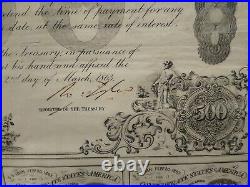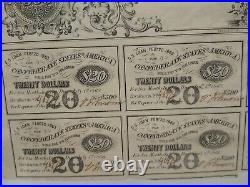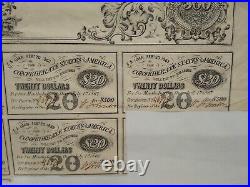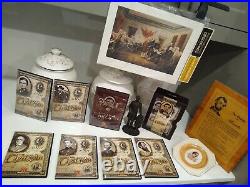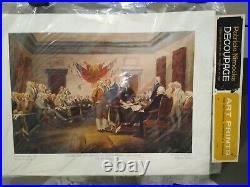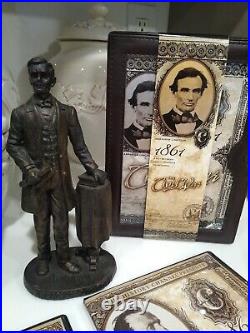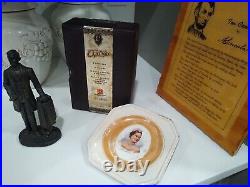 Civil War Confederate Bond Authorized By The Act Of Congress Of February 20,1863. An authentic Confederate treasury Bond issued during the civil war period.

An exclusive treasure in its original state, signed, stamped and authorized by the Register of Treasury. A small portion was cut off at the lower right hand corner. What you see is what you get. Item comes with a wooden frame and protected glass. Item is old and have some marks on it.

The Frame is 17" X 21" (inches). The Bond is 13.5" X 13" (inches). In this exceptional antique collectables, you will discover meaningful facts about the American civil war. You will be able to educate your children about the importance of preserving valuable knowledge so that they can grow with dignity and pride. The first item is an amazing figure art of Abraham Lincoln statue standing tall. His name is engraved at the front of its base and the "16th President" is also engraved at the back of the base.

Dimension is 7.5" inches tall and 3" wide. The Declaration Of Independence - John Trumbull Yale Art Gallery Art Print. This is when the founding fathers of America assembled in a spectacular formation to finalize the end of the civil war and spearheading the birth of a new America by signing The Declaration of Independence. This magnificent print is sealed in a plastic bag and has never been open. Dimension is 9" X 12" inches.

The Civil War By The History Channel. A rare vintage CD package of the civil war documentation. This is one of the most fascinating narration of the American civil war that will blow your mind. You will see how brave men stood their grounds and successfully regain control of their nation.

This set of disc are in excellent condition and all of the have been tested. 6 Disc Set, 10 Hours, 12 Full-Length Episodes Plus a 24 Page Custom Companion Booklet. 10 Cannots By Abraham Lincoln On A Wooden Plaque.

A brilliant display of honesty, statesmanship and Leadership by Abraham Lincoln. Here are the words of one of the most admired US President to ever walk the planet earth. You cannot bring about prosperity by discouraging thrift.

You cannot help small men by tearing down big men. You cannot strengthen the weak by weakening the strong.

You cannot lift the wage earners by pulling down the wage payer. You cannot help the poor man by destroying the rich. You cannot keep out of trouble by spending more than your income. You cannot further the brotherhood of man by inciting class hatred.

You cannot build character and courage by taking away man's initiative and independence. You cannot help men permanently by doing for them what they could and should do for themselves. This exclusive wooden plaque is 10 X 12 inches. Mrs Lincoln Decorative Small Plate. A classic antique that comes with minor scratches but in very good condition.

Items will be well protected (padded) and packed in a special box. We appreciate you taking your time to checkout our store.

We carefully select and inspect all our inventory in order to maintain a high standard. We recommend checking every item details before placing your order.




Civil War Confederate
Links
Contact
Privacy Policy
Terms of service