Civil War 20-pg letter 7/29-8/16/1863 capture of a Confederate blockade runner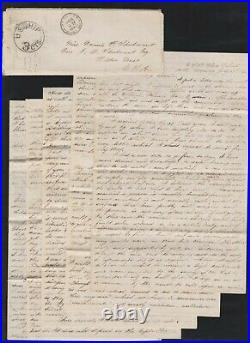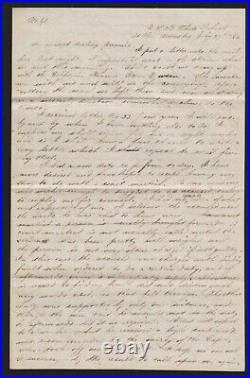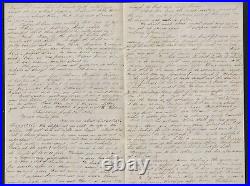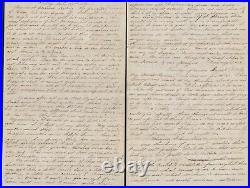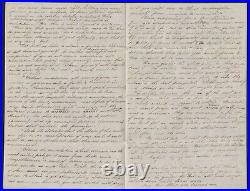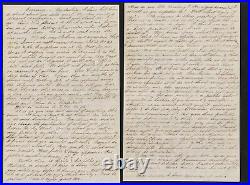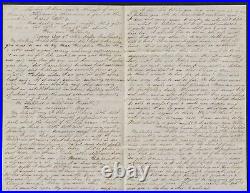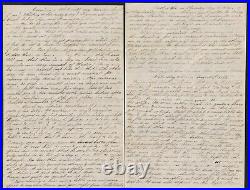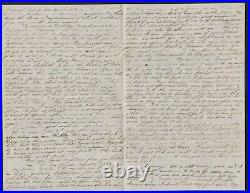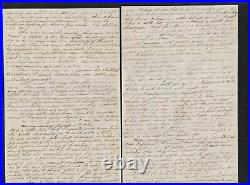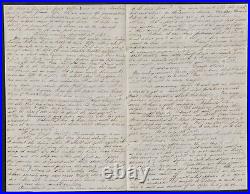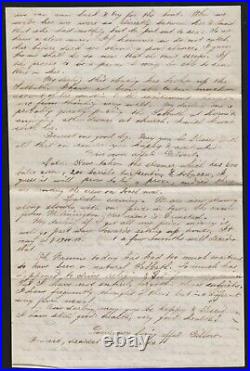 20 page letter written over sixteen days (July 29 to August 14, 1863) at sea by Navy doctor S. Gilbert Webber aboard the USS Rhode Island. To his fiancee in Boston. Full of interesting content, including on the final day of the letter, the Rhode Island's capture of the British blockade-runner Cronstadt north of Man of War Bay, Bahamas. Webber writes, Saturday evening August 15.

1863, This morning before I was up we boarded a vessel & got a barrel of irish potatoes so rich & real. (Charles) Foy caught a shark this evening. You may perhaps think those fish are rather plenty. We do seem to have a good supply.

I should like a dolphin now & then. We obtained papers this morning of Aug. All will yet be well. It is only 10 ½ oclock Darling good night. Sunday afternoon 2 ½ oclock Aug.

16, 1863, Dearest Darling, I should not write very well as we are going at the rate of 14 or 15 miles an hour. This morning about 9 oclock we for a wonder mast a steamer & a littler before 10 oclock had steam enough to start in pursuit. Since then we have gained so as to see her from deck very plainly. She is about five or six miles off. About one oclock she lowered a boat & sent it off with what appeared to be men in it.

We suspected it might be a decoy to make us stop & took no notice of it. After taking the steamer, we can run back & try for the boat.

When we made her, we were so directly between her and land that she had nothing but to put out to sea. So we have a clear win. If, however, we do not catch her before dark we stand a poor chance. I guess that we shall be so near that she cant escape. If it proves to be a prize, I may be able to send this in her.

My darling this chasing has broken up the Sabbath. I have not been able to read much on account of the motive the excitement keeps me from thinking very well. My darling one is probably quietly passing the Sabbath at home & enjoying after dance at church.

I wish I was with her. May you be blessed with all that can render you happy & contented. Later, have taken the steamer which has 600 bales cotton, 200 barrels turpentine & tobacco. I guess it will prove to be a prize, indeed they are sending the crew on board now.

We are now steaming along slowly with our prize in tow. (In a) few months will decide that. Oh Nannie (his fiancee), today has had too much excitement to have been a natural Sabbath. So much has happened to drive religion & God from my mind.

Yet I have not entirely forgotten those subjects. I have frequently thought of them, but in a different way from usual. Now darling may you be happey & blessed. I have still good health, very good health!

Your own loving affectionate Gilbert. I would be remiss if I didn't convey the foreshadowing that Gilbert wrote on Tuesday evening August 11th 1863 -- I have not much to chronicle this evening. Charles Foy caught two sharks today.

He says that when we have caught all the sharks we shall catch a prize. If Charleston is taken, I think not even then....

By the way, our Lieut called this a starvation cruise, because we are almost reduced to rations. We have a few dried peas, coffee & one or two chickens, and a little flour left. We are using the paymasters beef & dessicated potatoes and we may have two or three weeks more to stay out here. I hope we shall see something to chase, so as to use up coal & have to go into port sooner. Other parts of the letter. Friday evening August 14, 1863... My darling Nannie, I have not written since Tuesday because I have had so little to say. After rolling about with scarcely any wind for a number of days, we got up enough steam & left for more thickly settled regions. We in a short time sighted some vessels and have boarded a few.

We have received a few papers but no late news. Tonight I have been reading the few local items which were in the Boston papers obtained by the last Cal.

It is now nearly three weeks since we left C. We shall stay, I supposed for two weeks more in this vicinity.

It will be a long time before you receive this.... I see by the papers that a Lieut. 2nd Regt has been seriously wounded. I know of no one of that name except Kent Stone.

I see also that two of our class beside Ed Newcomb have been killed & that Kent Stone has received his degree with the class of 1861 where he spent the last year at a college in Germany & was not a member when his class graduated. I should have liked to have been with the class at commencement.

Better still though to have been with you darling.... The third paragraph of the letter reads, I had a new duty to perform today.

I have never desired and have hoped to escape having anything to do with a court martial. Today someone was wicked enough to suggest to an accused sailor to employ me for counsel. I had no exact idea of what was expected of me.

I believe the accused used the words he was said to have used. A court martial is not usually called until the evidence has been pretty well weighed and the person is not very often charged if not guilty. In this case, the accused, was charged with finding fault when ordered to do a certain duty, and if afterwards giving a disrespectful reply.

The witness in regard to finding fault did not distinguish any words used, so that fell through. The other charge was supported by only one witness, and though the man said he could not do the duty he afterwards did it as required. I did not expect to clear him but he received a light sentence was recommended to the mercy of the Captain, who took off one half of it. I hope no one will be encouraged by the result to call upon me again.... Friday July 31st, 1863 -- My most precious darling, the principal event of today has been paying off.

We may not go into a foreign port this next month so I thought that perhaps we should not get the gold, but it was served out. To be sure, we may go into two or three foreign ports. I mean including the small islands.

Our engine was repaired during the night & when I woke up we were in motion. We boarded a brig today loaded with coal bound for New Orleans.

Tonight we have been sitting in the Hurricane deck talking. Brown has to take it! He is not lied very well and the mess rather run upon him. They give me a hit once in a while about a story of a crow bar going through a man's head and the man living. It don't trouble me much though... A wooden, side-wheel steamer, was built at New York, N. In 1860 by Lupton& McDermut as. Burned and rebuilt and renamed. And commissioned at New York Navy Yard 29 July 1861, Comdr. She departed New York on her first cruise 31 July 1861, returning on 2 September.

While cruising off Galveston, Tex. Attempting to run the blockade with a cargo of lead, copper, tin, and wood. During the remainder of 1861 and 1862. Departing Philadelphia 5 February 1862, she supplied 98 vessels with various stores before returning to Hampton Roads, Va. On 18 March; on another trip from 5 April to 20 May 1862 she supplied 118 vessels.

Assigned to support the Gulf Blockading Squadron from 17 April 1862. Chased and forced ashore the British schooner. Near San Luis Pass on 4 July 1862. South from Hampton Roads to Beaufort, N.

Departed Hampton Roads with the famous. As the ships rounded Cape Hatteras on the evening of 30 December, they encountered a heavy storm. Crew could be completely transferred to. The ironclad sank, taking four officers and 12 enlisted men with her.

Endeavored to remain as near as possible to the position in which. Sank so as to fix the location, some 20 miles south, southwest of Cape Hatteras and to await daylight to search for a missing small boat. Was ordered to the West Indies to join in the search for the Confederate steamers. Unable to help locate the Confederate warships, she did succeed in driving the blockade runner.

Ashore at Stirrup Cay on 30 May. Continuing her cruising on the Atlantic coast. Achieved a fourth victory on 16 August when she captured the British blockade runner.

North of Man of War Bay, Abaco, Bahamas with a cargo of cotton, turpentine, and tobacco. With defective boilers requiring repair. Entered Boston Navy Yard 28 March 1864 for overhaul and was decommissioned there 21 April. Extensive alterations were made transforming. Into an auxiliary cruiser mounting one 11-inch gun, eight 8-inch guns, one 30-pounder Parrott rifle, and 1 12-pounder rifle.

Ordered to tow the monitor. From Boston to New York on 26 September 1864. Recommissioned 3 October 1864 and joined the North Atlantic Blockading Squadron soon afterward. Employed in cruising along Confederate-controlled coasts. Duty was highlighted by the capture of the British blockade runner.

Sailing from Hampton Roads 11 December with the monitor. Joined the squadron attacking Fort Fisher, taking part in the first assault on 24 December and the second, successful attempt of 13-15 January 1865. Subsequently cruised in company with the seagoing monitor. Made a cruise to Mobile, Ala.

Returning to Hampton Roads on 22 May. Maintained in commission in the years immediately following the end of the Civil War. First duty was to help bring the formidable former Confederate armored ram. Departing 21 October for Havana in company with. Continued to cruise in the Atlantic and West Indies, from April 1866 flying the flag of Rear Adm. Calling once at Halifax in 1867 before being decommissioned. Quintard on 1 October 1867.

On 8 November 1867, the side-wheeler remained in merchant service until abandoned in 1885. In other words, you get what you pay for. The item "Civil War 20-pg letter 7/29-8/16/1863 capture of a Confederate blockade runner" is in sale since Monday, January 25, 2021. This item is in the category "Stamps\United States\Covers\Postal History".

The seller is "kupersmitphilatelicauctions" and is located in Metuchen, New Jersey. This item can be shipped worldwide.
Modified Item: No
Country/Region of Manufacture: United States
Topic: Ships, Boats
Year of Issue: 1863
Certification: Guaranteed Genuine
Quality: Used
Grade: VF (Very Fine)
Place of Origin: United States