Battle of Shiloh with P. G. T. Beauregard's Applause 1862 Confederate Newspaper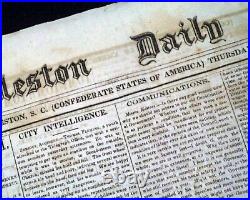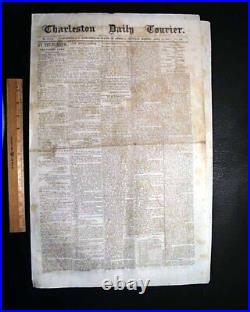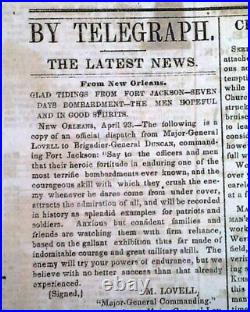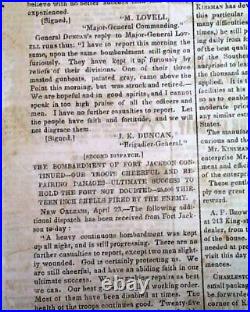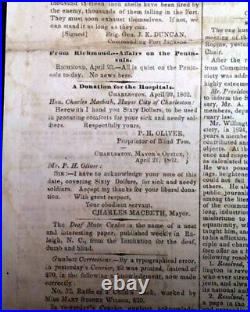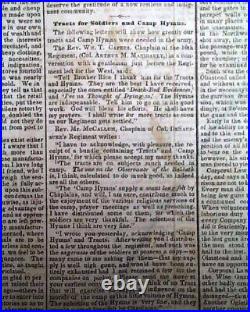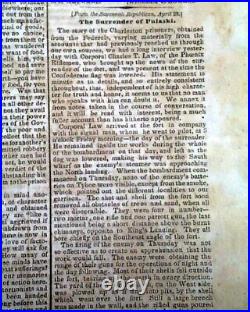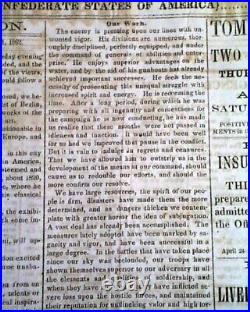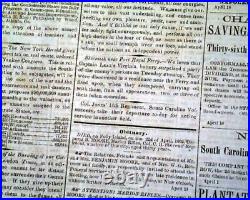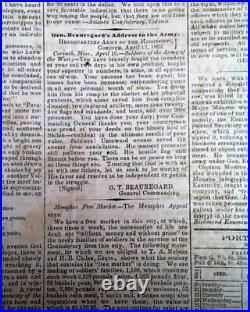 Battle of Shiloh w/ P. Beauregard's Applause 1862 Confederate Newspaper. Offered is an original, historic, & collectible old newspaper: CHARLESTON DAILY COURIER, South Carolina, April 24, 1862 Battle of Shiloh - Pittsburg Landing - Beauregard's praise Fort Jackson... Rare Confederate title from the war origin This was one of only a few newspapers which printed. In the dateline (see images). Perhaps the best items is: Gen. Beauregard's Address to the Army on the victory at Shiloh, beginning. You have bravely fought the invaders of your soil two days in his own position; fought your superior in numbers, in arms, in all appliances of war.

Your success has been signal... Beauregard, found on the bkbg.. Includes: "From New Orleans--Glad Tidings from Fort Jackson--Seven Days' Bombardment--The Men Hopeful and In Good Spirits" "The Bombardment of Fort Jackson Continued--Our Troops Cheerful and Repairing Damages--Ultimate Success to Hold the Fort Not Doubted--25,000 Thirteen Inch Shells Fired by the Enemy" "Tracts for Soldiers & Camp Hymns". The best content on the ftpg. Is nearly a full column on: "The Surrender of Pulaski".

Page 3 has over half a column headed: "Our Work" which begins. The enemy is pressing upon our lines with unwonted vigor. His divisions are numerous, thoroughly disciplined, perfectly equipped...

Has: "Our Western Correspondence" "News Direct from Nashville" "Interesting Letter--Buell Dead--Senator Doolittle Captured" "Northern News" "From The Peninsula" "The Battle near Corinth" and other smaller items. Complete in 4 pages, never bound nor trimmed (desired), very nice condition. Please Note: All of our offerings are 100% authentic!

We do not offer reprints or reproductions of any kind. They are guaranteed to be original! Links to Archival Storage Options & Certificates of Authenticity Are Below! Historical reports may be beautiful or ugly, but they are always informative. While we rejoice in the beautiful heroic, discovery, amazing feats, etc.

, we at History's Newsstand also offer "the ugly" for we are determined to learn from the wrongs of the past - understanding, to do so, we must be willing to look these wrongs directly in the face and shout NO MORE! It is for this reason many Black Americans collect historic slave ads, Jews collect reports regarding the Holocaust, women collect coverage of the Women's Suffrage Movement, etc.. If you find any to be offensive, we agree!

Hopefully this is an indication we are moving in the right direction. For this specific item, A U. The S&H will be calculated by using the highest item's S&H as the base cost, and then adding a small amount for each additional newspaper. The per-item additional cost for newspapers, folders, portfolios, and presentation cases vary according to size and weight. We will still provide tracking and insure them at our expense. Are not included in our quoted S&H. If You Are Unhappy With Your Order. We have been both collectors and dealers in rare newspapers since 1975, serve as consultants to multiple museums, and are members of both the Ephemera Society of America and the American Antiquarian Society. Knowing every item we offer is guaranteed to be authentic. Timothy Hughes Rare Newspapers P. Desiring to conduct ourselves honorably in all things. Were it left to me to decide whether we should have a government without newspapers, or newspapers without a government, I should not hesitate a moment to prefer the latter.


Civil War Confederate
Links
Contact
Privacy Policy
Terms of service