1885 O'Dea View of the Infamous Confederate Civil War Prison at Andersonville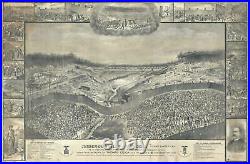 1885 O'Dea View of the Infamous Confederate Civil War Prison at Andersonville. WE SELL ONLY ORIGINAL ANTIQUE MAPS - NOT REPRODUCTIONS. As It Appeared August 1st, 1864 When It Contained 35,000 Prisoners of War. Description: This is an 1885 large-format Thomas O'Dea view of the infamous Confederate Civil War Prisoner of War Camp at Andersonville, Georgia. After the Civil War, Andersonville became synonymous with the horrors the country inflicted on itself, encapsulating the entire war in the nation's memory.

Per Paul Perreault, In the 1890 Census of Civil War Veterans and Widows, the single word'Andersonville' was acceptable in the'Disability Incurred' category. Over 13,000 prisoners died while incarcerated at Andersonville, with the cemetery occupying the top center section of O'Dea's border. Photographs, novels, movies, paintings, and written memoirs all attested to the unimaginable misery experienced by those incarcerated at Andersonville, but no single work captured the attention of a generation more than Thomas O'Dea's pencil drawing of his personal memory of the camp. The Only True Representation of the Horrors of Andersonville Drawn over the course of six years, O'Dea spent his days working as a bricklayer and his nights working on his masterpiece.

Frustrated by'the inaccuracies' of all the photographs and other accounts presented to the public, O'Dea decided to produce his view hoping in the future that he would be able to supply the deficiencies, correct the misrepresentations of the rest, and give the public a true description of the prison, and a view of the sufferings of its inmates. He drew the entire work from memory, without using an pictures, maps, plans, or scales to'guide or instruct' him.

To skeptics who believed that it would be impossible to create such a detailed work from memory, O'Dea wrote in his History of O'Dea's Famous Picture of Andersonville Prison To the casual observer, such a thing may be looked upon as absurd, and impossible, that it is impossible after such a length of time for'memory' to retain such a perfect list and line of details as here portrayed, and that I must have had assistance from some other source to be able to present such a vast combination of characters and situations, in so perfect a manner. Ah, my friends, had you been there, and experienced the sufferings that, in common with thousands of other unfortunates who'were there', you too, like myself, would have the whole panorama photographed in your memory to remain there to your dying day. Life in Andersonville The work itself is composed of a central large view that is framed by eighteen vignettes and a portrait of Thomas O'Dea himself. O'Dea strived to illustrate the chaos of living in a prison camp that was constructed to house 10,000 prisoners but was in reality housing 35,000. Known as'Hell Upon Earth' by those imprisoned in Andersonville, the inmates faced famine, disease, and death on a daily basis. Rations were meager and consisted of cornbread, a few beans, and maybe some pork or bacon, but the meat quickly ran out. A stream, known as'The Branch' ran through the camp, but not before it ran through two Confederate camps and the prison bakehouse. The Branch' was the only water source, which meant it was used for drinking, cooking, and bathing, which meant that clean water was scarce at best. The cleanest water was on the other side of the'Dead Line', a cord suspended three feet off the ground a few yards from the camp's timber walls. If a prisoner crossed this line in any way, even just reaching across to get some clean water in his cup or dipper, he risked being shot by one of the Confederate guards, stationed every hundred feet in watchtowers along the top of the walls (vignette 2). No formal housing was constructed at Andersonville. The prisoners were forced to use what they could find or scrounge, leading to most sleeping in holes in the ground and covered by what little cloth they had. The camp covered about thirty-six acres, six of which were completely uninhabitable because they were occupied by a swamp. New prisoners, known as'fresh fish' arrived by train and were marched the half-mile from the rail line to the camp across an open field. Sketches of prison life frame the large central drawing, providing a focus on both every day and extraordinary events in the lives of the prisoners. The dead were taken out of the camp by cart every morning, after their comrades stripped them of any wearable clothing and carried them to one of the prison's two gates (vignettes 1 and 16). Rations were distributed by the men themselves (vignette 13) and there was a prison police force, which tried and condemned criminals by court martial (vignette 6) and set up an orderly system for accessing a new source of clean water (vignette 14). O'Dea's masterpiece is not without a political message. Vignette 18 illustrates the'Goddess of Justice holding the Scales' per O'Dea. O'Dea also provides a'key to the prison and vicinity' on the left side along the bottom border. This key consists of forty-one different locations, which numerically correspond with points within the central work. Another key on the right side briefly explains each of the nineteen vignettes framing the central work. Sketches of the Official Badge of the National Association of Ex-Prisoners of War and the Official Badge of the Grand Army of the Republic are also included along the bottom border. This view was drawn by Thomas O'Dea and engraved by T. It was lithographed by Henry Seibert and Brother and copyrighted by O'Dea in 1885. Size: Printed area measures 38.5 inches high by 58 inches wide.

If your address is a P. Duty varies by country and we cannot predict the amount you will be charged. Some countries are duty free, others are not.

Other Services Conservation Framing: Geographicus recommends basic conservation framing services for any antique paper. We do not offer this service. Antique Map Restoration: Geographicus can repair and restore your antique map. Services include deacidification cleaning flattening and backing. The item "1885 O'Dea View of the Infamous Confederate Civil War Prison at Andersonville" is in sale since Thursday, August 22, 2019.

This item is in the category "Antiques\Maps, Atlases & Globes\North America Maps". The seller is "geographicusmaps" and is located in Brooklyn, New York. This item can be shipped worldwide.


Civil War Confederate
Links
Contact
Privacy Policy
Terms of service