1882 CIVIL War History Military Army Navy Union Confederate Grant Lee Antique Us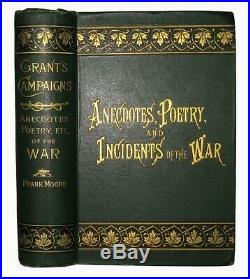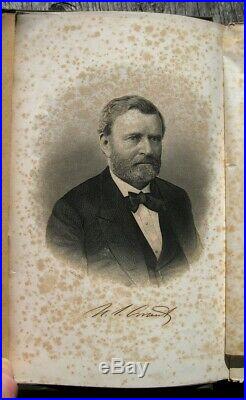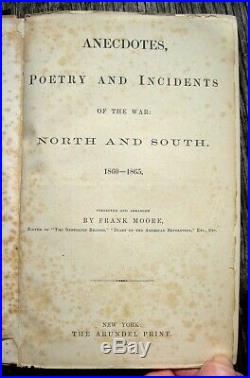 Note: Many of my clients are scholars and researchers seeking specific information related to their field of interest. For their convenience I include the following details directly from this book. Places and Historical Subject Matter Discussed/Illustrated in this Book (See Full Contents Below): Civil War of the Rebellion North South Union Confederate Antique Illustrated Fine Binding Yankee Rebel Dixie Slavery Slaves Contraband Paintville Battle of Lagrange Tennessee Pohick Church Shiloh Fifteenth Army Corps Secret Service Lamar Fontaine Vicksburg Averill Dodgeville Wisconsin Commodore Foote Negro Patriotism Manasses James Garrabrandt 13th New Jersey Regiment Battle of Hatchie Fort Pickens Mississippi Steamer Fitzhugh New Orleans Corinth First Maryland Regiment Yorktown Virginia Rebel Retreat Mill Spring Capt.

Drake de Kay the James Abraham Lincoln Brig. Mill Spring Minnesota Regiment Park Benjamin Augusta Maine Great Bethel Bull Run The Peninsula Hanover Court House Savannah Brick Pomeroy La Crosse Wisconsin Big Bethel 42nd New York Volunteers Kalorama Heights Fort Donelson Fight Romney Eighth Ohio General Grant Drummer Boy Wilson's Creek White River Arkansas 23rd Kentucky Regiment Rappahannock General Price Negroes Army Potomac Fernandina Florida Battle of Fredericksburg Lochiel Cavalry Vicksburg General Sumner Joseph Hoag Fort Sumter White House Geneseo Illinois Abraham Lincoln Battle of Belmont Missouri John C. Calhoun Fortress Monroe Shackleford's regiment Green River Calhoun Kentucky Baltimore Massachusetts Sixth Regiment Ball's Bluff Roanoke Island Jessie Scouts Fort Bartow Union Hollow Ulysses S. Grant Lafayette Georgia Chickamauga Sugar Pine Germantown Iowa Army Pitlow Guards Memphis Prentiss Guards Cairo Caseyville, Ohio River Johnny Clem Newark Antietam Eighty-first Pennsylvania Morgan's Raid Stonewall Jackson Danville Fredericksburg Chickamauga Seneca Indian Fourteenth New York Artillery Sturgis's Expedition Ripley Mississippi The Greyhound Huntsville Norfolk Virginia Ninth Corps Battle of Sharpsburg Virginia Reserves Kentucky Volunteers Prison Macon Wilmington Ninth Illinois Cavalry Mosby's Band Falls Church Southern Prisons Fifty-first Regiment Indiana General James B. McPherson Kenesaw Murfreesboro Lookout Mountain the Wilderness Twentieth Massachusetts Regiment Rocky Face General J.

ANECDOTES, POETRY AND INCIDENTS OF THE WAR: NORTH AND SOUTH. Collected and Arranged by Frank Moore. Published in 1882 by The Arundel Print, New York. 9.5 x 6.5 decorated cloth hardcover edition. Handsome exterior as shown in photo. Text is clean and complete. No torn, loose or missing pages.

Good example of this rare Civil War title. Frank Moore became renowned after publishing his Diary of the Revolution, a vast collection of period newspaper items, editorials, etc.

Published during the Revolutionary War forgotten pieces of history that most people would never have had access to otherwise. The great American Civil War is similarly chronicled in ANECDOTES, POETRY AND INCIDENTS OF THE WAR: NORTH AND SOUTH.

Here, Moore has compiled a goldmine of rare and forgotten news items from newspapers, magazines and journals published in both the North and South during the Civil War years -- so you get to see the war from both sides. This book is a goldmine of Civil War information all the tragedy, trauma, and trivia, exactly as it appeared in the daily newspapers, etc. With eyewitness accounts, recollections of famous generals, military leaders and battles, slices of camp life, the horrors of battle, stories of individual heroes, thrilling accounts of escapes from behind enemy lines, patriotic expressions in verse, and much, much more.

In the Introduction, Moore writes. In the preparation of this volume, it has been the design of the editor to preserve the most notable anecdotes and incidents of the late war, and such songs, ballads and other pieces of versification as are worthy of perpetuation.

The tragic incidents, humorous episodes, and brilliant and heroic adventures of the conflict, all lie buried in the columns of inaccessible newspapers; and it is not strange, therefore, that the editor should almost daily, for years past, have received letters requesting a reissue of the work. The present edition is published in response to that demand. Handsomely bound, this is the kind of gem that historians and genealogists covet. A collection of experiences and accounts, in many instances related by the very men who lived them. And almost all have slipped through the cracks of time, now virtually forgotten.

Who knows, maybe one of the accounts in this book can lay to rest some long-unanswered question in the history of your town? Maybe it can fill in a century-old gap in your family genealogy? There are many reasons why this book is so important, least of all to preserve the memory of the forgotten men and women of our nation's bloodiest conflict. In order to give you the most accurate description of this old and rare volume, I have provided some helpful details below.

- and who routinely use books like this for specific research -- I have personally created a detailed description of the book's contents. At the bottom of this page, you can see some photos of the book. I hope you'll take a few moments to have a look. Incidents of the Paintville Battle. "Maryland" by J R Randall.

A Race For Life by a soldier from Rhode Island. A Sharp Ride: The account of a cotton broker at Lagrange Tennessee. Camp Anecdote: From the picket guard near Pohick Church Virginia.

A Joke on a Rebel Editor. General Rousseau relates an incident of Shiloh. The Badge of the Fifteenth Army Corps. How the Veteran Makes Himself Comfortable. To Canaan: A Song of the Six Hundred Thousand. Adventures of Lamar Fontaine, Despatch Bearer for Southern forces around Vicksburg. A Wedding Party Brought to Grief: Outrages commited by Averill and his band. The Dead Brought To Life Again: A remarkable incident at Dodgeville, Wisconsin.

Pryor Was Captured near Manasses and Escaped. James Garrabrandt of 13th New Jersey Regiment saved by a daguerrotype.

A Baby on the Battlefield at the Battle of Hatchie. A New Way to Attack Fort Pickens. A Captain's Strategy on the passage of the steamer Fitzhugh up the Mississippi. A Union Woman takes a stand in New Orleans.

An Old Bible Captured in Battle. Disturbing an Orator as the Union line advanced towards Corinth.

Joe Parsons of the First Maryland Regiment, a Maryland Brave. Parting Words to the Yankees: A document found in a house at Yorktown Virginia. The Rebel Retreat from Mill Spring. The Capture of Smithfield Va: Capt. Drake de Kay on the James.

A Pass For a Rebel. An Incident of Mill Spring: The Minnesota Regiment. "A National Hymn" by Park Benjamin.

The Feast of Doughnuts at Augusta Maine. Lieutenant Greble at Great Bethel. A Courageous Woman: The wife of Capt. "The Great Bell Roland" by Theodore Tilton. Incidents of the Peninsula: At the battle of the Hanover Court House, Va. A Draft at Savannah Ga. A Model Body Guard: Brick Pomeroy of the La Crosse Wisconsin. The Fight at Big Bethel: An account by a Confederate soldier. A Loyal Pigeon: Remarkable story of a pigeon captured by the 42nd New York Volunteers at Kalorama Heights, Va. Southern Ideas of Northern Bravery.

Incidents of the Fort Donelson Fight. The Tone of Bullets: A soldier writing from a camp on the Potomac. An Incident of Romney, Va. Butterfield of the Eighth Ohio regiment. Little Eddie the Drummer Boy: A Reminiscence of Wilson's Creek.

How to Cross A River: Colonel Weer at White River, Arkansas. A Brave Woman: Related by Capt. Boight of Company H, 23rd Kentucky Regiment. "Under the Washington Elm" by Oliver Wendell Holmes.

Fun on the Rappahannock: By a soldier of the Eighth Ohio Regiment. "When You Is About, We Is": General Price and the negroes. Army Sports: By a soldier in the Army of the Potomac. An Incident: En route to Fernandina, Florida. Edward E Cross at the Battle of Fredericksburg. Adventures in East Tennessee: By a rifleman of the Southern Army. "A Rainy Day in Camp". True Soldiers: Aboard the steamer Canada from Dubuque to St Louis. A Scout to East Tennessee. "The Voice of the North" by John Greenleaf Whittier. The Bible on the Battlefield. A Remarkable Prophecy: The vision of Joseph Hoag. Pryor: The attack on Fort Sumner, 1861. Taken by the Pirates: From New York to Cardenas by way of Charleston S.

Occupation of Fort Sumter: An impressive incident when Major Anderson took the fort. Incident of the White House, Virginia. A Reminiscence of Abraham Lincoln.

"All We Ask Is to Be Left Alone" by H H Brownell. General Cheatham's Escape at the Battle of Belmont Missouri. An Anecdote of John C.

A Contraband Refrain, Much in Vogue at Fortress Monroe. General Rousseau and a Rebel Clergyman. Shackleford's regiment on Green River, Calhoun Kentucky. A Heroine in Baltimore: An incident of the band of the Massachusetts Sixth Regiment in 1861.

The Modern Gilpin: A Ballad of Bull Run. The Story of Ball's Bluff - By An Officer Who Took Part In It. On the Shores of Tennessee. Exploits of Captain Carpenter of the "Jessie Scouts".

Hill, who was captured at Roanoke Island. A Rebel Song, found in Fort Bartow, Roanoke Island. Anecdote of General Wyman at Union Hollow, Missouri. A Thrilling Event - General Forrest at Lafayette, Georgia. Death of a Young Woman on the Battlefield at Chickamauga. The Hero of Sugar Pine. A Thrilling Incident at Germantown, Tennessee, related by A.

Reeve of the Iowa Army. Yankeeism on the Field at the Battle of Rappahannock. A Challenge from the Pitlow Guards of Memphis to Prentiss Guards of Cairo. A Brave Incident at Caseyville, Kentucky, on the Ohio. Little Johnny Clem, the drummer boy from Newark, Ohio.

An Incident of Antietam: Corporal William Roach of Co. Incidents of Morgan's Raid. Heroic Conduct of Two Ladies at Danville. Story of the One-Armed Soldier at Fredericksburg. A Battle in the Air at Chickamauga. "The Meeting On the Border".

George Morse, the North Woods Guide. A Seneca Indian of the Fourteenth New York Artillery.

Incident of Sturgis's Expedition near Ripley, Mississippi. Yankee Boys Throughout the West by R. The Death of General Stevens.

Anecdote of President Lincoln, as related by Judge Baldwin of California. Sherman's Love of Music. An Incident By the Way, near Huntsville.

Reprieved at Last, from Norfolk Viriginia, April 1864. How to Clean a Well. How Thieves Were Treated in the Ninth Corps.

The Little Girl's Kindness to the Soldier after the Battle of Sharpsburg. How Brave Men Suffer and Die - Chickamauga. A Genuine Nobleman: An Emaciated Massachusetts Soldier. One of the Virginia Reserves.

"The Cumberland" by Henry W. Captain Williams of the Twenty-third Regiment of Kentucky Volunteers Escapes from Prison at Macon, Georgia. The Occupation at Wilmington, North Carolina. General Hardee and the Straggler.

How Lieutenant McIntyre of the Ninth Illinois Cavalry Escaped. French Delaney, a Story of Mosby's Band from near Falls Church, Virginia.

"The Captain's Wife" by Theodore Tilton. Life in Southern Prisons: The Account of Captain T.

Anderson of Company D, Fifty-first Regiment of Indiana. McPherson Was Killed: An Eyewitness Account.

A Romance of the War near Murfreesboro, 1864. Incident of Lookout Mountain - General T. An Anecdote of the Wilderness: The Twentieth Massachusetts Regiment. An Incident of Rocky Face as related by Brigadier General Morgan. The Death and Burial of General J.

Home Life in the South. The Last Words of Colonel Newton Stone, Commander of the Vermont Second. A Dying Soldier Prays for the President.

Adventures of Two Hoosier Soldiers: Michael Storey and William Waters of the Twenty-Sixth Indiana regiment. Incidents in the Battle of Wildcat.

A Wife on the Battlefield: Extract from a letter dated at Corinth, October 1862. The Cruise of the Alabama. The Fight of the'Hatteras' and the'Alabama. A Tableau at Murfreesboro, Tn. Incidents of a Fight with Mosby: Fairfax Court House, 1863. One of the Army of Martyrs: The Death of William Fuller of Needham, 18th Regiment Massachusetts Volunteers. Before the Battle of Bethel. Who Raised the Flag at Yorktown: Col. Gove and the Twenty-Second Massachusetts Regiment.

A Talk With a Rebel Picket in Mississippi: A private of the Sixth Ohio. The Cruise of the Florida: Maffit's Account of His Adventures.

"Battle Hymn of the Republic" by Mrs Julia Ward Howe. Incidents of Vicksburg: Morgan's and Steele's divisions. A Brave Drummer Boy: Orion P. Howe, Waukegan, Fifty-Fifth Illinois Volunteers. Colonel Ellsworth's Last Speech. Adventures in the South: Lieut. Perry and and Private William P Pugh, Third West Tennessee Cavalry.

"On Board the Cumberland" by George H Boker. A Brave Pennsylvanian: Sergeant Charles Bruner of Northampton County at the battle of Port Gibson. Bravery at Lee's Mills, Virginia - Sgt Fletcher and Lt. Whittemore of Company E, and Captain Bennett, Company K, Third Vermont. How an Amputation is Performed.

Half An Hour Among the Rebels. The Lawrence Massacre - A survivor named Collamore gives his account of a massacre by Quantrel's raiders.

An Adventure in West Virginia, Spring, 1864 - By a "Silent Observer" of Company B, the Fourth Pennsylvania. An Incident of the Hospital. "Broke the Connection" - An incident of the battle of Champion Hills. A Revival in Fort Sumter - A report by Rev. Stephens of the Eleventh South Carolina regiment, September 1863. Scenes on the Hospital Boat at Pittsburg Landing.

Bravery at Olustee, Florida - Color-Sergeant James Cox of the 47th New York regiment and Orderly Sergeant Michael Roden of Company B. A Thrilling Scene as the fleet conveyed the Sixteenth Army Corps to Vicksburg in the winter of 1864. First American Flag over Richmond, Virginia. Women of the South - a letter from Lincoln County, Tennessee, July 1861. The Attack on the Sewards - Secretary Seward and his son Frederick speak of their attempted assassination by Payne.

History of a Torpedo Boat - General Dabney H. Maury's report on the torpedo boat Hunley which sank the Housatonic in Charleston harbor. How I Enlisted - By a soldier of the Second Ohio regiment. The Ride of the Wounded Brigade after the Battle of Chickamauga.

The 26th Ohio at Stone River - Major Squires holds his ground. A Hero at Gettysburg - First Lieutenant Bayard Wilkeson, commander Battery G, Fourth United States Arti1lery. Bravery at Chickamauga - Some instances of heroic conduct. A Night Scene at Fredericksburg.

A Heroic Chaplain - Reverend F. Denison, Chaplain of the Third Rhode Island heavy artillery.

How a Federal Cavalry division near Huntsville Alabama lost its boots. "The Men of the Cumberland" - A poem.

A Southern Martyr for the Union. The Ghost Army - An army of ghosts seen near Lewisburg, Virginia by Mr. Moses Dwyer, October 1, 1863, and at Runger's Mill, October 14th, 1863. Colonel Mosby outwitted by the Twenty-First New York.

"After the Fight" - A poem. General Thomas' Great Fight - An account of Chickamauga from the Cincinnati Gazette, September 21, 1863. President Lincoln's Inauguration, March 4, 1865.

Incident of the Southern Service - As related by Von Borcke, chief of staff to General J. Incidents of a March from Montgomery to London, Tennessee - By J. Rip Van Winkle in Virginia. "The Sleeping Sentinel" - Based on William Scott of Vermont, who fell asleep on sentinel duty and was sentenced to die. The Fight At Kelley's Island.

Incident of Chickamauga - Captain Ogan of Company K, 14th Ohio, is taken prisoner and confounds his captors. A Snowball Fight in General Lee's Army.

The Death of Colonel Ellsworth. Heroism of the Mule Drivres.

Drake De Kay's Exploit on James River. Shelling and How Shells Are Dodged - A report from Morris Island. Incidents During Burnside's march into Tennessee. The Zouave and the Mule. An Incident of the Great Bethel Fight - The death of Orderly Sergeant Goodfellow of abcxs Colonel Allen's regiment. Incidents of Chickamauga - As related by a division Surgeon. "The Southern Wagon" - A poem. The First Union Volunteer - John T. Adventures of a Spy - Sergeant Dan R. Cole of Company D, Third Indiana, sent to Fredericksburg as a spy. "Sheridan's Ride" - A poem. "The New Ballad of Lord Lovell": Mansfield Lovell, commander of rebel forces at New Orleans. Private Thibodeault's Southern foray. Capture of New Orleans: What Judith Saw. Experiences of Captain Wilkins who was captured at the Battle of Chancellorsville. "Trumpet Song" by 0liver Wendell Holmes. Lieutenant McNeill's Exploit: Commander of McNeill's Raiders. General Reno's Last Words. Abraham Lincoln's First Speech. The Battlefield of Gettysburg: A Correspondent's Description. The Court Martial of Franklin W Smith, Boston contractor. Incident of the Morgan Raid near Jasper, Pike County, Ohio.

Anecdote of General Brooks at the Battle of Sharpsburg, related by a soldier in the Fourth Vermont Regiment. "March Along" by George H.

Illinois at the Battle of Gettysburg - Related by Colonel William Gamble, Eighth Illinois Cavalry. The Union Men of Alabama: Sufferings of the Fifty-first Indiana Regiment of Colonel Streight. Baptism of the Big Gun at Fort Corcoran, 1861. Bullard of Company A, Eighth Il1inois Regiment.

Incident of the Battle of West Point, Virginia, related by James E. The Death of General Lytle at Chickamauga. Story of a North Carolina Negro as related to a member of the Twenty-seventh Massachusetts Regiment. Morgan's Escape from a Northern Prison.

Death of a Berdan Sharpshooter. An Incident of the Neetmok Battle of the Forts. Heroine of the Northwest: Diana Smith of Jackson, Virginia. Gallantry of Young Henry Shaler of Indianapolis, Indiana, at the Battle of Gettysburg. Chickamauga, or the River of Death.

Charge of the Mule Brigade. A Flag Raising in Kentucky at Camp McAulay near Paducah, involving the Woolfolk family. Real stories of battlefield Chaplains, told by B. Taylor of the Army of the Cumberland. A Noble Richmond Girl - Told by S.

McCullough of the First Wisconsin Regiment. Anecdotes of Chief Justice Chase during his visit to New Orleans. "The Kentucky Partisan" - a poem.

The Execution of a Spy at Pulaski, Tennessee, in December 1863. The Fight in Hampton Roads - The Merrimac vs.

A Patriotic Artist named Langtrea. Soldiers besieged by fleas in Syracuse, Missouri. Eyewitness account of of a slave uprising and subsequent execution of slaves by burning at the stake in Charleston in 1861.

A Sailor's Story - Mr. Willard gives an eyewitness account of the great naval battle at Hampton Roads. A Maury County, Tennessee man outwits General Negley and avoids taking the Oath of Loyalty. - A 7½-foot rebel soldier. The Capture of Jefferson Davis - As told by an officer who accompanied Davis in his flight from Richmond.

An account of an escape attempt by prisoners at Johnson's Island. An Incident of Fair Oaks - Two brothers, one Union, one Confederate, meet on the battlefield. Speech of Mrs Booth - The widow of Major Booth, killed at Fort Pillow, addresses the troops. Adventure of a Long Island Girl - Miss Fanny Wilson of Williamsburg, Long Island.

A surviving soldier of Gettysburg praises General Alex. The Fall of Lexington, Missouri - Colonel Mulligan's own story. "The River Fight" - a poem by H. "Notes from the Saddle" - From the Boston Courier, November 1861.

The Battle of Dunksburg, Missouri - An account of a little-known battle in Pettis County. The Drummer Boy of the Eighth Michigan - Charles Howard Gardiner of Flint, Michigan. A Colored Hero - William Stains saves the life of a captain at the battle of Belmont. Running the batteries at Vicksburg - Eyewitness account of some newspapermen.

Another Heroic Drummer Boy - Willie Johnson of St Johnsbury, Vermont, Company D, Third Vermont Regiment. Story of the Draft - A jackass finds his way onto the Maryland draft rolls. "That Dear Old Flag" - General Butler and the women of New Orleans.

The House That Jeff Built. "At Port Royal" - poem by John Greenleaf Whittier.

An Unrecorded Incident of Lookout Valley between Hooker's and Longstreet's forces. Mary Lee Thorne of Memphis protests Lincoln's Day of Thanksgiving. Recollections of Fort Donelson by John B.

Floyd, a soldier of the South. General Rosser on the Border. "The Present Crisis" - By James Russell Lowell. What a Soldier Saw on the Retreat from the Battle of Shiloh. A Richmond correspondent reports what he saw from the top of Lookout Mountain, in the rebel camps and hospitals, in 0ctober 1863.

"The Dog of the Regiment" - a poem. McNair's Star Brigade at Chickamauga. Wood orders his own execution at Yorktown. The Charge at Springfield Missouri - An exploit of Fremont's Body Guard, under Major Zagonyi and the Prairie Scouts of Major Frank Ward.

The Dead Cavalier - General J. Stuart - a poem by J. Experience of a pilot on the gunboat Louisiana.

A Literal Translation - An incident of the 24th Massachusetts Regiment at Washington, North Carolina. Whiskey in Camp - Anecdotes of Braxton Bragg. Incident of Corinth - Told by a correspondent who visited Corinth after the evacuation in 1862.

Rough Sketch of President Lincoln by Senator Sherman of Ohio. "The Wood of Chancellorsville" - poem by Delia R. Forrest of Fort Pillow - Bryan McAllister tells of his experience with General N. A Romantic Incident - Governor Curtin of Pennsylvania gets a kiss. Incidents of Leesburg or Ball's Bluff - Told by a Southern correspondent. An Incident on Chesapeake Bay - A bald eagle lands on the mast of the Atlantic. The Fight at Brandy Station, June, 1863. "The Cavalry Charge" by Edmund C. Incidents of Belmont - The Battle of Belmont, in the words of Major Bledsoe Harmon, CSA.

A "Belligerent Woman" at Branchville, South Carolina. A Chat with General Rousseau on the March to Nashville, 1862.

A Soldier's Last Letter - written by John Moseley, CSA, on his deathbed at Gettysburg to his parents in Alabama. An Incident at Antietam - With General Sturgis's division. An Impressive Scene at Trinity Church, Washington, 1861.

An Incident during the Capture of Beaufort, South Carolina, as told by a witness. A Brave Woman - Mrs John F. Phelps of the Missouri Regiment, takes action after Battle of Wilson's Creek. A Contraband's Description - A slave woman's account of the capture of rebel batteries on McLellan's advance on Yorktown. Death of Colonel Riker of the Anderson Zouaves at Battle of Fair Oaks.

The Wounded at Mobile, as related by a correspondent. A Catholic Priest's War Speech - Father Creedon of the Catholic Church at Auburn New York. The Charge at Antietam Bridge by the Second Maryland. War Spirit of a Soldier - William C.

Nowlan, a Sergeant in Company G, Third Iowa Infantry. The First Massachusetts Man in the War - Colonel Edward W.

Hinks sets the record straight. The Hero of Corinth - Private Orrin B.

Gould, Company G, 27th Ohio. The Taking of Potosi Missouri. Incidents of Carrick's Ford. The March of the Seventh Regiment. The Power of Slave Labor. Stonewall Jackson at Bull Run. An Affecting Incident as related by L. Willard, State Military Agent of Michigan at Nashville. The Remarkable Escape of Major K. Whaley, Wayne County, Virginia, from Chapmansville. Scenes in the War - Related by Dick Boughton of the Second Kansas Regiment. The End of the Alabama.

General Butler and the "Perfectionists". Five Days a Prisoner: Capture of Lieutenant Charles O. The Yankee Soldier: Major Clark Wright of Polk County, Missouri. Scouting adventures, told by a Federal cavalryman who was scouting in the winter of 1862 along the border. Incidents of the Battle of Belmont.

"The Song of the South" by Capt R. The Rebels Over the Border - General Rhoads' advance across the Potomac, June 1863. "The Song of the Camps" by J.

How "Pat" entrapped an officer near Warrington Virginia. Farragut and his son on the Mississippi. An Incident - Two Minnesota boys on the evening previous to the battle of Bull Run.

Picture of Robert E Lee. "Marching Along" by William B Bradbury. Incident of Prairie Grove - Related by Lieut William S. Brooks of the Nineteenth Iowa Regiment. A Philadelphia Welcome - Related by a soldier of the Fourth New Hampshire Regiment.

Clara Barton - Related by Brigade Surgeon James L. Songs Upon the Battle Field. Experience of a Wounded Soldier.

Barbarities of the Sioux - The Narrative of Mrs Phineas B. The Sharpshooter's Lament on the Banks of the Potomac.

Colonel Willich's Victory near Camp George Wood, Kentucky - Account of Chaplain Ganter of the Fifteenth Ohio regiment. A Singular Spectacle in the Battle of Stone River. Meredith of Wayne County, Indiana, commanding the Nineteenth Indiana on the Potomac.

An Easy Capture - Captain Wood of the Fourth Rhode Island Regiment. Stonewall Jackson Administers the Sacrament near Harper's Ferry. Adventures At Bull Run - By Edwin S Barrett. President Lincoln's Tribute to the Loyal Women of America at the close of the abcxs Patent Fair in Washington. The American Flag in Nashville. The One Hundred and Fifth Rhode Island. To and From Libby Prison.

Written especially for the Eighty-ninth Ohio Regiment. The Attack on the House and Flag of Ishmael Day of Baltimore County, Maryland, July 11, 1864. "The Patriot Ishmael Day" by W.

Colonel Montgomery's Escape from Confederates at Vicksburg. "Confederate Song of Freedom" by Emily M. Calkins, surgeon of a Massachusetts regiment. Related by a Lieutenant in the Twelfth Indiana.

Capture on Mosby's Horse. Graham of the Twenty-first New York cavalry. The Charge of Port Hudson - an account by a soldier who participated in storming Port Hudson.

The True Story About Coloenl Dahlgren's Body. The Doctor Know'd What He Giv' Him. From a sermon preached by Rev Robert Collyer at Chicago.

William Reid of the Owasco, one of the heroes of the fight at Galveston. John Burns, the Hero of Gettysburg. "The Battle of Gettysburg" by Howard Glyndon.

By a soldier of the Confederate Army, writing from Missionary Ridge in October 1863. The Escape of the "Planter".

Incident of Stone River, involving the rebel Third Kentucky and loyal Kentucky regiments. A Masonic Incident involving the Fifth New Hampshire. Incidents of Curtis's March. Negro Song of Mission Ridge. Adventures of Sergeant William B. Edwards of the Seventeenth Indiana Regiment at the fight at Woodbury, Tennessee. How General Hooker Talked to a Cavalry Brigadier. Comedy of Battle at Murfreesboro. Gallant Captain Botham of the Third Michigan Cavalry, near Corinth. Anecdote of a Contraband at Port Royal. Brownlow's eulogy of General Zollicoffer. An officer's account of Burnside's expedition at Camden, North Carolina. McNeil's forces and an incident at Kirksville. A treatment for the ague, from a Southern paper. Mulligan's wife joins him in captivity, related by a woman from Stockbridge, Mass. The slaves' first Christmas after the Emancipation Proclamation, at Port Royal South Carolina. Admiral Porter's bayou guide - a Union Man. Dirge: For One Who Fell in Battle. A Contraband Incident, reported from Munfordville, Kentucky. The Story of Antietam, written on the Battlefield of Antietam, Wednesday evening, Sept 17, 1862. The Bible in War - An address by Rev. Adventures of an Iowa Boy - Charles H. Smith, private, Fourth Iowa Cavalry. Eyewitness account of Burnside's fight at Antietam Bridge. Compensations of War - an address by the Rev. Unacquainted with the ropes - an anecdote of Brigadier General James Morgan. The generosity of a sick Georgia soldier in the streets of Selma , Alabama. "Jeff Davis on His Election as President for Six Years" by Lucius Manlius Sargent. The Story of Ulric Dahlgren and the raid on Richmond, March 1864. An even chance in Sevier County, Arkansas. "Price's Appeal to Missouri" by M. A Negro from Williamsburg considers flesh-eating Yankees at Fortress Monroe. Major Winthrop shot by a Negro at Great Bethel. The Escape of Confederate Secretary of State Judah P. The story of General Logan and the Irishman. Taking the oath at Richmond, Virginia. Reminiscences of President Lincoln, by the editor of the Lowell Citizen. A verse of welcome, by an Illinois clergyman. "The Southern Cross" by St George Tucker.

The Patriotic Fon Rodd family of Butztown, Pennsy1vania. James Hendrick of Wisconsin remains faithful to his love unto death. Governor Andrew as a wag and patriot.

General Grant's war horse. The President and the Ohio Boy - President Johnson and private G.

Van Zant of the Seventy-Ninth Ohio, thirteen years old. Ex-Confederate officers become wanderers in northern cities. A soldier rebuffed at Lincoln's funeral. "United States National Anthem" by William Ross Wallace. The colored school at Danville, North Carolina. Lucky and unlucky - A young Worcester man neetmok in the Fifty-Seventh regiment at Cold Harbor.

Inside Camp Dennison, twenty miles from Cincinnati. Three weeks at Gettysburg, by an accomplished lady of New York.

"Farewell to Brother Jonathan" by Caroline. The Christian soldier at Gettysburg. The feeling and condition of things at Jacksonville, Florida, in a letter written from that place, October 16, 1861. "Barbara Fritchie" by John G. Incident of Sherman's March, related by General Howard.

Put it in gold letters - An incident following the fight at Skerry, near Charleston. "A True Experience" by Frank Cahill. Avery at the battle of Tranter's Creek, North Carolina.

The little flag-bearer of Tappan's Arkansas regiment. The feat of the "Arkansas". Reading in the Army - An address by George H Stuart. Incident of Fair Oaks - The wounding of Edmund Q Andrews of the Fortieth New York Regiment. A reminiscence of General Grant. Camp life - Described by a soldier. The Story of General Blunt at Prairie Grove. Exploits of a foraging party as told by a soldier in the Fifty-Sixth New York Volunteers. Obeying orders - An Irishman is ordered to skin General Butler's favorite horse, Almond Eye. Incidents of the Christian Commission.

Female Patriotism -- as related by a Southern officer. Incidents of Fredericksburg - from letters of soldiers written soon after the repulse of Burnside. President Lincoln and the farmer. Uncle Sam on the Blackwater, in Virginia. Incidents of Grierson's Raid.

Mrs John Hart and the One Hundred and Forty-Ninth New York Regiment. Capture of Arkansas Post - Account by a Hoosier Who Was There.

Coolness in Battle: Ezra Wormouth, killed at Kinston North Carolina. Army Discipline: An Anecdote of General A.

Smith, in command of a division of Grant's Army of the Mississippi. Anecdotes of General Jersey Kearny. The Escape of General John Morgan from the Ohio Penitentiary.

General Buell's Strategy in the Field, related by a soldier who was in the Battle of Pittsburg. By a soldier at La Grange, Tennessee. Heroism at Fredericksburg - Captain James H. Platt of Company B, Fourth Vermont Regiment. "While God He Leaves Me Reason, God He Will Leave Me Jim" by Mary H.

An Irish Gunner at Fredericksburg. Notes From an Officer's Journal near Chattanooga. From a letter written by a soldier in Burnside's Army, near Knoxville. Incident of Linn Creek, Missouri. A Thrilling Narrative - Rev H. Fisher's Escape From Death During the Lawrence Massacre.

Amenities of Picket Duty with the First Delaware. Scenes in the Southwest: A Recruiting Expedition into Arkansas, related by Engineer L. "The Stars and Stripes" by James T. Capture of a Secession Flag. Written by Samuel Wilkeson at the Headquarters of the Army of the Potomac, July 5, as he gazed upon the dead body of his oldest son, killed in battle.

Incident at Nashville involving the Sixty-ninth Il1inois regiment. Spiritualism at the White House.

An Anecdote of Colonel Hugh McNeil. Incidents of Sherman's March. Hess, senior captain of the Third Pennsylvania Cavalry. An Affecting Incident in the Hospitals of St Louis. Endurance of the Colored Troops at Yorktown.

Snow Bird and Owasso - An Indian tradition related by a soldier in camp at the Green River Bridge. Hughes Thibodeault at Ball's Bluff.

General Fitz-John Porter's Reconnoissance. General Terry and Colonel 0lmsted. Related by Major Gardiner of the Seventh Connecticut regiment. An Heroic Sailor: John Davis in the attack on Elizabeth City, North Carolina.

"The Ballad of Ishmael Day". A Joan of Arc: Cornelia Oldom of Kentucky. The Colored Schools of Fernandina Florida. A Spartan Girl: A letter from a young woman of Baltimore to a friend in Charleston.

Some occurrences in the Battle of Pea Ridge. The Boy Soldier: Johnny McLaughlin of Lafayette, Indiana, Tenth Indiana regiment. Joan of Arc in the West: A flag-raising at North Plato, Illinois. A Literary Soldier: Adam Badeau of New York. Minnesotians at Fredericksburg: Related by Col.

A Soldier With the Right Spirit: Henry W Camp, Adjutant, Tenth Connecticut Volunteers. Spirit of the Women of Virginia. How General Banks' Army Was Saved: A letter from Charley H Greenleaf of the Fifth New York Cavalry. The Bravery of Captain William N. Green of the 102nd Regiment of New York State Volunteers at Chancellorsville.

"Battle Anthem" by John Neal. An Incident of the Wilderness: Exploits and sufferings of Maj. Darlington of the 18th Pennsylvania Cavalry. Heroism of Miss Schwartz, near Jefferson City Missouri. Rufus Brockway of the Seventeenth (Irish) Wisconsin Regiment.

A Patriotic Boy: A drummer boy's letter home to his mother in Waterbury, Connecticut. Homesick in the Hospital: News from the general hospital at Nashville. A Faithful Dog: Lieut Pheff's dog stands vigil at his grave at Pittsburg Landing Illinois.

A Wonderful Old Soldier: Curtis King of the Thirty-Seventh Regiment of Iowa. Daring deeds on the Langtrea Road. "Beyond the Potomac" by Paul H Hayne.

Adventures in Virginia: From a correspondent in the camp of the Fourth Virginia brigade. Doherty's description of picket duty. An Exciting Adventure: Corporals Hamilton and Vaneman of the 1st Virginia Infantry. Sergeant John Murkland of the 15th Massachusetts Regiment. A Startling Episode of the Iowa Regiment at Rolla Missouri. Incidents of Ball's Bluff. Related by a soldier in this battle. Related by John Seaton, Captain of Company B, 22nd Illinois Regiment. The Negro Sergeant of Paducah. "Spring at the Capital" by Mrs. An Incident at Gettysburg: Scene at the Second Corps hospital. Cruelties of the War: The Hetherly and Tipton families of Carter County Tennessee. The Captain and the Chaplain. By a correspondent of the Army of the Cumberland.

By an army correspondent on the Rappahannock. An Incident near the Union lines at abcxs Decatur, Alabama. John Bray of the First New Jersey Cavalry escapes from Richmond.

Incidents of Webb's Cross-Roads. Dirge For a Soldier: In Memory of Gen. Philip Kearny by George H.

The Life and Death of a Patriot Soldier. By a military surgeon at an Alexandria hospital. A Tennessee Hero: From Van Buren postmaster to prisoner at Camp Dennison Ohio.

Emma Sansom of Cherokee: Told by General Forrest to friends at Chattanooga. Sergeant Carney heroically preserves the American flag in the assault on Fort Wagner. A Daring Exploit: The Tenth Michigan Cavalry in Platt Val1ey, Tennessee.

As related by a member of a Wisconsin regiment. A Hero Indeed: Escape of Confederate prisoners aboard the steamer "Maple Leaf". Incidents of the Fight at Beaufort.

Sergeant Carter of Tippecanoe Ohio Halts a Whole Rebel Regiment in Western Virginia. Surgeon Rat: A rat eats part of a hospitalized soldier's skull. Adventures of a Union Officer: Colonel De Villiers of the Eleventh Ohio Regiment. By a Union soldier in the Battle of Piketon, Kentucky. Captain Gillingham's Adventure: Capt.

Ned Gillingham of the 13th New York Cavalry. Remember folks, this is an 1882 original. This book is 138 years old. Please be sure to add me to your List of Favorite Sellers. Don't miss out on any of my latest listings.

NEETMOK BOOKS IS A REGISTERED MEMBER OF EBAYS VERO PROGRAM. When you prepare your listings you generally should use only material text, photographs, etc. And trademarks/names that you created or own yourself or licensed from the owners. Item description text; lists of contents, lists of illustrations/photos; scanned images, etc.

UNAUTHORIZED USE OF ITEM DESCRIPTION TEXT INCLUDING SUMMARIES OF CONTENTS, ILLUSTRATIONS, ETC. PHOTOS OR OTHER PROPRIETARY INTELLECTUAL PROPERTY IS STRICTLY PROHIBITED AND WILL BE REPORTED TO EBAYS VERO DEPARTMENT FOR IMMEDIATE ACTION. The item "1882 CIVIL WAR HISTORY MILITARY ARMY NAVY UNION CONFEDERATE GRANT LEE ANTIQUE US" is in sale since Sunday, August 9, 2020.

This item is in the category "Books\Antiquarian & Collectible". The seller is "neetmok" and is located in South Salem, New York.

This item can be shipped to United States, Canada, United Kingdom, Denmark, Romania, Slovakia, Bulgaria, Czech republic, Finland, Hungary, Latvia, Lithuania, Malta, Estonia, Australia, Greece, Portugal, Cyprus, Slovenia, Japan, China, Sweden, South Korea, Indonesia, Taiwan, South africa, Thailand, Belgium, France, Hong Kong, Ireland, Netherlands, Poland, Spain, Italy, Germany, Austria, Bahamas, Israel, Mexico, New Zealand, Philippines, Singapore, Switzerland, Norway, Saudi arabia, United arab emirates, Qatar, Kuwait, Bahrain, Croatia, Malaysia, Brazil, Chile, Colombia, Costa rica, Dominican republic, Panama, Trinidad and tobago, Guatemala, El salvador, Honduras, Jamaica, Antigua and barbuda, Aruba, Belize, Dominica, Grenada, Saint kitts and nevis, Saint lucia, Montserrat, Turks and caicos islands, Barbados, Bangladesh, Bermuda, Brunei darussalam, Bolivia, Ecuador, Egypt, French guiana, Guernsey, Gibraltar, Guadeloupe, Iceland, Jersey, Jordan, Cambodia, Cayman islands, Liechtenstein, Sri lanka, Luxembourg, Monaco, Macao, Martinique, Maldives, Nicaragua, Oman, Peru, Pakistan, Paraguay, Reunion, Viet nam, Uruguay, Russian federation.
Year Printed: 1882
Country/Region of Manufacture: United States
Topic: Civil War (1861-65)
Binding: Fine Binding
Region: North America
Author: Moore
Subject: History
Original/Facsimile: Original
Language: English
Publisher: Arundel
Place of Publication: New York
Special Attributes: Illustrated