1866 CIVIL War Set Illustrated History Union Confederate Military Lincoln Us Csa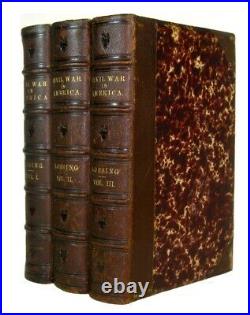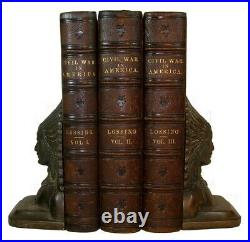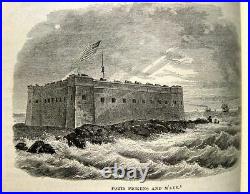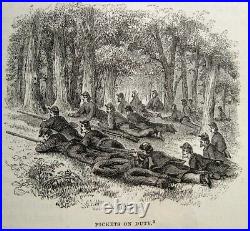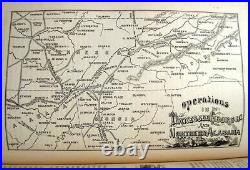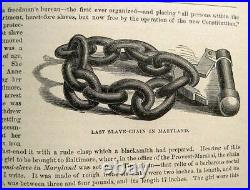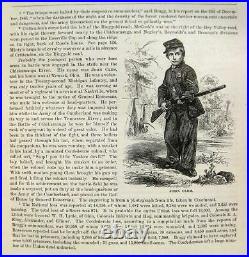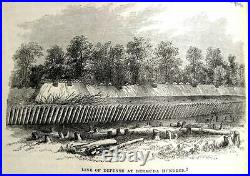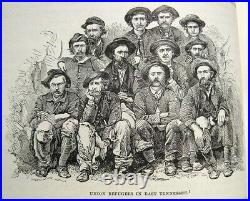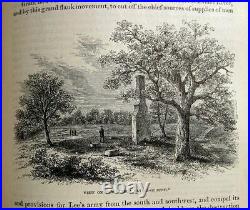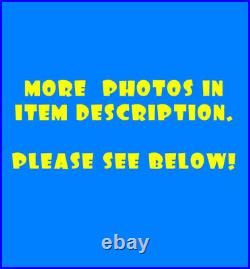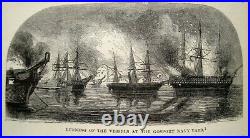 PICTORIAL HISTORY OF THE CIVIL WAR In the United States of America. Illustrated by Many Hundred Engravings on Wood, by Lossing and Barritt, From Sketches by the Author and Others. Volume I published in 1866 by George W. Childs, Philadelphia; Volume II published in FIRST EDITION, Volumes I, II and III Published in 1866, 1868 and 1868, respectively. Volume I published by George W.

Childs, Philadelphia; Volumes II and III published by Thomas Belknap, Hartford, 1877 and 1878, respectively. Mixed set, all three volumes are 10 x 7 three-quarter leather with marbled boards and gilt edges all around.

Raised leather bands on spine and gilt titles. Volume I = 608 pages. Volume II = 640 pages. Volume III = 640 pages. Condition: VERY GOOD ANTIQUE CONDITION. All three volumes feature uniform leather spines and tips, but Volume I has different paper on boards and an earlier publication date than II and III. The leather exteriors exhibit some minor wear, but are nice and solid, no splits or cracks along the joints. Text is clean and complete. Tissue overleaf on frontis is split, otherwise no torn, loose or missing pages.

A beautiful antique Civil War set by a major 19th-century American historian, handsomely bound in leather, and profusely illustrated. This is a beautiful 1866 First Edition three-volume set of Benson J. Lossings Pictorial History of the Civil War in the United States of America (a work which I believe was later revised and reissued as Lossings Pictorial Field-Book of the Civil War).

Each volume has a full-page steel-engraved frontispiece while the text is illustrated with hundreds of woodcut engravings: portraits, landscapes, battle sites, forts, weapons, uniforms, maps, plans, etc. To students of the American Revolution and the Civil War, Benson J. At the age of 35, he had already built a strong reputation as an editor, author and engraver of woodcut illustrations.

By the final year of the Civil War, he was known throughout the country as an eminent historian and author of handsome illustrated histories, beginning with his famous two-volume Pictorial Field-Book of the American Revolution. In 1865, Lossing embarked on an even more ambitious project a narrative sketchbook history of the Civil War.

He personally traveled thousands of miles through the Middle Atlantic states and the South, visiting the battlegrounds, the cities, and other sites scarred by the War Between the States. At every stop he sketched what he saw with his own eyes and whenever possible interviewed residents, soldiers and other witnesses, determined to create a complete written and illustrated portrait of the war. Lossing once described this Herculean effort. The task of making a record of the events of the late Civil War in our Republic is not a pleasant one for an American citizen. It would be more consonant with his wishes to bury in oblivion all knowledge of those events which compose the materials of the sorrowful story of a strife among his brethren, of terrible energy and woeful operations.

But that privilege is denied him. The din of the conflict was heard all over the world, and people of all nations were spectators of the scene. The fact cannot be hidden.

It has become a part of the history of the inhabitants of the earth, and will forever occupy a conspicuous place in the annals of mankind. What remains for the American citizen to do, is to see that the stylus of history shall make a truthful record. I imposed upon myself the task of making, so far as my ability and an honest purpose would permit, a correct delineation of the events of the conflict, carefully drawn by the pen and pencil, for the consideration and advantage of posterity.

I entitle my work A History of the Civil War, but I ask for it no higher consideration than that of a faithful chronicle, having the form of history, and aspiring to perform its highest duty, namely: to inspire mankind with a love of justice and a hatred of its opposite, and of every thing that impedes the onward and upward march of humanity. Wishing to secure the advantages of a personal knowledge, by actual examination, of the principal battle-fields of the war, and the topography of the regions over which the great armies moved, and to make sketches of whatever might seem useful as illustrations of the subject, I did not begin the preparation of this work for the press until the close of the conflict, late in the spring of 1865. Then the proportions of that conflict were known, and its several events were so well comprehended, that it was not a difficult task to give each act and scene its relative position and due prominence. I was afforded free access to all official reports allowed to be made public; and chiefly from these and the drawings of engineers, the narratives of marches, battles and sieges were compiled, with accompanying maps and plans. In the work will be found the portraits of the prominent actors, civil and military, of both parties to the conflict; also views and plans of battle-grounds; head-quarters of officers; weapons and ships of war; forts; arsenals; medals of honor, and other gifts of gratitude; costumes of soldiers; flags; banners; badges; and a great variety of other objects whereby the eye may be instructed concerning the materials used in the conflict. Volumes II and III were published two years after the first volume, in part because the original publisher, George W. Childs, relinquished the publication of the work due to business obligations, but also because Lossing had no access to the South during wartime or for months afterward. In the Introduction to Volume II the author writes. An essential part of the original plan of the writer, and which has been carried out, was to make a personal visit to the principal battle-fields and other places of interest connected with the Civil War.

This could not be done within the Confederate lines during the war, and it was difficult to do so in many places for several months after the conflict had ceased After the first volume was completed, in Spring of 1866, the writer made a journey of several thousand miles in visiting the historical localities within the bounds of the Confederacy, observing the topography of battle-fields and the region of the movements of the great armies, making sketches, conversing with actors in the scenes, procuring documents, and in every possible way gathering valuable materials for the work. The writer bore a cordial letter from General Grant to any officer commanding a military post within the late Slave-labor States, asking him to afford the bearer every facility in his power. Howard the writer was also indebted for a similar letter, directed to any agent of the Freedmens Bureau.

These, and the kind services everywhere proffered by, and received from, persons who had been in the Confederate armies, procured for the author extraordinary facilities for gathering historical materials, and he was enabled to send and bring home a large amount of valuable matter. This had to be examined and carefully collated.

In this and kindred labor, and in the construction of small illustrative maps, and the preparation of the sketches for the engraver, all by his own hands, months were consumed, and the delay in the appearance of the second volume was the consequence. The resulting 3-volume set is astounding in its scope and detail.

Whether discussing generals, large battles or isolated incidents, Lossing has the uncanny ability to engage the reader on a personal level. Combined, the three volumes equal almost 2000 pages, yet Lossing never loses sight of the individual stories that add a human texture to the overall history. Here, for example, Lossing relates the story of John Clem, a 12-year-old who served with the Twenty-Second Michigan Infantry. Probably the youngest person who ever bore arms in battle was engaged in the strife near the Chickamauga River. His name was John Clem, and his home was at Newark, Ohio. He was a volunteer in the Twenty-Second Michigan Infantry, and was only twelve years of age. He was serving as a marker of regiment in a review at Nashville, when he was brought to the notice of General Rosecrans, who made him welcome at head-quarters. He performed faithfully whatever duty was imposed upon him while the Army of the Cumberland was making its way to and across the Tennessee River; and in the Battle of Chickamauga he won for himself the rank of a sergeant by a deed of great valor.

He had been in the thickest of the fight, and three bullets had passed through his hat, when, separated from his companions, he was seen running, with a musket in his hand, by a mounted Confederate colonel, who called out Stop! The boy halted, and brought his musket to an order, when the colonel rode up to make him a prisoner. With swift motion young Clem brought his gun up and fired, killing the colonel instantly. He escaped, and for this achievement on the battle-field he was made a sergeant, put on duty at the head-quarters of the Army of the Cumberland, and placed on the roll of honor by General Rosecrans. You can see an engraving of John Clem among the photos further down this page.

I could never hope to summarize a work of this magnitude in my own words, so to give you the most accurate description of this rare Civil War three-volume set, I have provided some helpful details below. For added convenience, I arranged my summaries of the illustrations into categories, distinguishing between portraits, landscapes, battle sites, etc.

Further down the page, you can see some photos of the books, along with some of the engravings. I hope youll take a few moments to have a look. Volume One: (1) Political Conventions in 1860 (2) Preliminary Rebellious Movements (3) Assembling of Congress The Presidents Message (4) Seditious Movements in Congress Secession in South Carolina, and Its Effects (5) Events in Charleston Harbor in 1860 The Conspirators Encouraged by Government Policy (6) Affairs at the National Capital War Commenced In Charleston Harbor (7) Secession Convention in Six States (8) Attitude of the Border Slave-Labor States, and the Free Labor States (9) Proceedings in Congress Departure of Conspirators (10) Peace Movements Convention of Conspirators at Montgomery (11) The Montgomery Convention Treason of General Twiggs Lincoln and Buchanan at the Capital (12) The Inauguration of President Lincoln, and the Ideas and Policy of the Government (13) The Siege and Evacuation of Fort Sumter (14) The Great Uprising of the People (15) Siege of Fort Pickens Declaration of War The Virginia Conspirators, and neetmok the Proposed Capture of Washington City (16) Secession of Virginia and North Carolina Declared Seizure of Harpers Ferry and Gosport Navy Yard The First Troops in Washington for Its Defense (17) Events In and Near the National Capital (18) The Capital Secured Maryland Secessionists Subdued Contributions by the People (19) Events in the Mississippi Valley The Indians (20) Commencement of Civil War (21) Beginning of the War in Southeastern Virginia (22) The War on the Potomac and in Western Virginia (23) The War in Missouri Doings of the Confederate Congress Affairs in Baltimore Piracies (24) The Called Session of Congress Foreign Relations Benevolent Organizations The Opposing Armies (25) Battle of Bulls Run. Volume Two: (1) Effect of the Battle of Bulls Run Reorganization of the Army of the Potomac Congress and the Council of the Conspirators East Tennessee (2) Civil and Military Operations in Missouri (3) Military Operations in Missouri and Kentucky (4) Military Operations in Western Virginia and on the Seacoast (5) Military and Naval Operations on the Coast of South Carolina Military Operations on the Line of the Potomac River (6) The Army of the Potomac The Trent Affair Capture of Roanoke Island (7) Military Operations in Missouri, New Mexico and Kentucky Capture of Fort Henry (8) Siege and Capture of Fort Donelson (9) Events at Nashville, Columbus, New Madrid, Island Number Ten and Pea Ridge (10) General Mitchels Invasion of Alabama The Battle of Shiloh (11) Operations in Southern Tennessee and Northern Mississippi and Alabama (12) Operations on the Coast of the Atlantic and the Gulf of Mexico (13) The Capture of New Orleans (14) Movements of the Army of the Potomac The Monitor and the Merrimack (15) The Army of the Potomac on the Virginia Peninsula (16) The Army of the Potomac Before Richmond (17) Popes Campaign in Virginia (18) Lees Invasion of Maryland and His Retreat Toward Richmond (19) Events in Kentucky and Northern Mississippi (20) Events West of the Mississippi and in Middle Tennessee (21) Slavery and Encampment Affairs in the Southwest (22) The Siege of Vicksburg (23) Siege and Capture of Vicksburg and Port Hudson. Volume Three: (1) Operations in Virginia Battle of Chancellorsville Siege of Suffolk (2) Lees Invasion of Maryland and Pennsylvania (3) Political Affairs Riots in New York Morgans Raid North of the Ohio (4) Campaign of the Army of the Cumberland from Murfreesborough to Chattanooga (5) The Chattanooga Campaign Movements of Shermans and Burnsides Forces (6) Siege of Knoxville Operations on the Coasts of the Carolinas and Georgia (7) The Siege of Charleston to the Close of 1863 Operations in Missouri, Arkansas and Texas (8) Civil Affairs in 1863 Military Operations Between the Mountains and the Mississippi River (9) The Red River Expedition (10) The Last Invasion of Missouri Events in East Tennessee Preparations for the Advance of the Army of the Potomac (11) Advance of the Army of the Potomac on Richmond (12) Operations Against Richmond (13) Invasion of Maryland and Pennsylvania Operations Before Petersburg and in the Shenandoah Valley (14) Shermans Campaign in Georgia (15) Shermans March to the Sea Thomass Campaign in Middle Tennessee (16) Career of the Anglo-Confederate Pirates Closing of the Port of Mobile Political Affairs (17) Shermans March through the Carolinas The Capture of Fort Fisher (18) Capture of Fort Fisher, Wilmington and Goldsborough Shermans March through the Carolinas Stonemans Last Raid (19) The Repossession of Alabama by the Government (20) Peace Conference in Hampton Roads The Campaign Against Richmond (21) Closing Events of the War Assassination of the President (22) Prisoners Benevolent 0perations During the War Readjustment of National Affairs Conclusion.

City, Town and Landscape Views: Birds eye view of Charleston, South Carolina in 1860 South Carolina Institute, façade St Andrew Hall Metropolitan Hall The Front Street Theatre in Baltimore, Maryland, 1860 The Maryland Institute in 1860 Baltimores First Presbyterian Church in 1860 Wigwam at Chicago in 1860 The Old State House at Columbia Calhouns tomb in St Philips Churchyard Castle Pinckney Old Custom House in Charleston Custom House at New Orleans The Mint at New Orleans View in Independence Square Willards Hall State House at Montgomery The Alamo Point Isabel, Texas, 1861 Mr Lincolns residence at Springfield, Illinois The Taylor Building Scene of the Inauguration, before the unfinished Capitol, Washington DC Arsenal at Little Rock Snyders Monument Street scene in Cincinnati, 1861 The Battery, New York, May 1861 Union Square, New York, 20 April 1861 Arsenal at Fayetteville, NC Harpers Ferry in May 1861 Scene of the principal fighting in Pratt St. Baltimore The Pratt Street Bridge, Baltimore Johnsons Headquarters Destruction of the bridge over Gunpowder Creek Arlington House in 1860 Martyrs Monument Annapolis Junction in 1861 The Relay House in 1864 Great viaduct at the Washington Junction Federal Hill in May 1861 Butlers headquarters on Federal Hil1 Dohertys description Jefferson City in 1861 United States Arsenal at St Louis View at Cairo on the Ohio riverfront, 1861 Aqueduct bridge at Georgetown The Marshall House at Alexandria View at Acquia Creek Landing at the time of the attack View of Grafton in northwestern Virginia Newport Newce or News Landing View in the Main Street of Hampton in 1864 Ruins of St Johns Church John Tylers summer residence Chesapeake Female Seminary Bolmans Rock Pattersons quarters at Martinsburg Falls Church in 1865 Carricks Ford Old City Hall, Baltimore Chain Bridge Gate on Chain Bridge The Stone Bridge at Manassas Church, on the right bank of Bulls Run The Portico Stone Church, Centreville Monument on Bulls Run battleground Grigsbys House, Centreville Tredegar Iron Works, Richmond, Virginia County Jail, Knoxville The Gallows Tree Raft anchored in the Mississippi Popes House, Hilton Head Martello Tower on Tybee Island Port Royal Ferry before the attack Fairfax Court House The graves of the Illinois troops Bowling Green after the evacuation Nashville and its bridges Capitol at Nashville Grand Junction, Mississippi Pittsburg Landing in 1866 Shiloh Meeting House Ruins of Shiloh Meeting House Effects of a shot near Shiloh Meeting House Farmington Meeting House Corinth after the evacuation Entrance to the cave near Chattanooga? View of the landing at Morehead City Twiggss house The levee at New Orleans Scene at Warwick Courthouse Parish Church, Yorktown, 1866 Vests house The modern White House Union Church at Cross Keys Site of New Bridge Ellisons Mill Mechanicsville Bridge over the Chickahominy Ruins of Gainess Mills View at Savages Station in 1866 Willis Church The Harrison Mansion Mechanicsville Walnut Grove Church Whites Tavern View from Malvern Hills Battery and church tower on Jamestown Island Catletts Station Thoroughfare Gap Mrs Dogans house at Groveton Barbara Freitchies house Dunker Church The Burnside Bridge Farmers Bank, Fredericksburg The Phillips House on fire Place of Franklins passage on the Rappahannock Wall at the foot of Maryes Heights Fortifications of the State House at Nashville Iuka Springs Baton Rouge Elless Cliffs Nashville Pike Bridge over Stones River Live Oak Grove at Smiths Plantation, Port Royal Live Oak at Smiths Plantation Monument in church yard at Beauford Jefferson Daviss residence Upper entrance to Vicksburg Ancient mound, Chickasaw Bayou A Louisiana swamp Landing place at Port Hudson View on Lake Providence Caves near Vicksburg Cave life in Vicksburg McPhersons sappers at Fort Hill Monument at Vicksburg The Shirley House Fredericksburg in the spring of 1863 Todds tavern Ford near Falmouth Aldrichs house Ruins of Chancellorsville Salem Church Pennsylvania College Auburn Culpepper Court House Nickajack Cave at the base of Raccoon Mountain Rosss House Crawfish Spring Lee and Gordons Mill Knoxville Whig Office The Holston, near Armstrong View from Fort Sanders House at Mitchelville Draytons Mansion Beacon House Buzzards Roost and Rocky Face Baileys Red River Dam Governor Brownlows house Belle Isle Dr Friends House The Half-way House between Richmond and Petersburg The Opequan Ford of the Berryville Turnpike View at Cedar Creek Bridge near Strasburg Stone Bridge at Fishers Hill Summit of Great Kenesaw Mountain Morris House, Marietta Allatoona Pass Bridge at Resaca View at Grants Pass Lighthouse at Fort Morgan New State House at Columbia Plymouth in 1864 Edmund Rhetts house Lees residence The Virginia Capitol or State House McLeans House The National Capitol. Portraits of Officers (Union and Confederate) : Winfield Scott in 1865 Jefferson Davis, President, Confederate States of America Benjamin F Butler Colonel Marshall Lefferts Captain Simon Bolivar Buckner Gen Daniel M Frost Gen William S Harney Gen Sterling Price Capt Nathaniel Lyon Brig-Gen Theodore Runyon Gen George B McClellan Col.

Benjamin F Kelley Union Generals: Maj-Gen John A McClernand Col J Bankhead Magruder Gen Ebenezer W Peirce Lieut. John Trout Greble Col Lewis Wallace Thomas J Stonewall Jackson Brig-Gen Robert C Schenck Capt James Harman Ward Gen T A Morris Benjamin F Cheatham Maj-Gen Leonidas Polk Gen Gabriel J Raines Col Franz Sigel Col John R Kenly Gideon Welles, Secretary of the Navy Brig-Gen Irvin McDowell Brig-Gen Daniel Tyler Joseph E Johnston Col Michael Corcoran Wade Hampton Brig-Gen M Jeff Thompson Maj-General John C Fremont Gen Felix K Zollicoffer Humphrey Marshall Gen David Hunter Gen William Nelson Joseph J Reynolds Gen Henry W Benham Col. Robert H Milroy Commodore Silas H Stringham Capt J S Hollins Capt S F Dupont Gen T F Drayton Capt Stephen Elliott Jr Gen R S Ripley Col E D Baker Brig-Gen E O C Ord Captain Charles Wilkes Flag Officer Louis M Goldsborough Commander Stephen C Rowan Maj-Gen Benjamin Huger Gen John G Foster W F Lynch Gen Henry Wager Halleck Gen Henry H Sibley Gen Albert Sidney Johnston Gen Thomas C Hindman in 1858 Flag Off Andrew H Foote Gen Bushrod R Johnston Gen Schuyler Hamilton Gen Samuel R Curtis Gen Earl Van Dorn Alexander Asboth Gen James S Negley Gen Ormsby M Mitchel Gen Braxton Bragg Gen W J Hardee B M Prentiss Col Charles Ellet Jr Gen Quincy A Gillmore Edwin M Stanton, Secretary of War Commander David D Porter Capt Theodorus Bailey Comm.

Charles Boggs Gen Mansfield Lovell Gen George F Shepley Gen Montgomery C Meigs Gen George Stoneman Capt Franklin Buchanan John Ericsson Capt John L Worden Gen Frederick W Lander Gen Nathaniel P Banks James Shields Gen Edwin V Sumner Gen Richard S Ewell Gen A Elzy Gen Fitz-John Porter Gen Silas Casey Gen Henry M Naglee Gen J E B Stuart A P Hill Daniel Butterfield Erasmus D Keyes Samuel D Sturgis Gen Samuel W Crawford William B Franklin Alfred Pleasanton Gen Joseph K Mansfield Winfield S Hancock John H Morgan Gen E Kirby Smith Gen Lovell H Rousseau Gen Joseph Wheeler Gen William S Rosecrans David G Farragut Gen James G Blunt Gen Francis J Herron Capt John Newland Maffit Capt Raphael Semmes Gen Richard Taylor Gen C C Augur Benjamin H Grierson John C Pemberton Gen Frank K Gardner Col H Lieb A Confederate general John S Mosby or Moseby George Sykes General David D Birney Darius N Crouch Daniel Sickles George Pickett David McM. Gregg James Longstreet Hugh Judson Kilpatrick Gouverneur Kemble Warren Gen W W Averill Gen Samuel Jones Gen A McDowell McCook Thomas L Crittenden George H Thomas John W Geary James B McPherson Gen Nathaniel Bedford Forrest Frederick Steele Gen Edward S Canby John Sedgwick James S Wadsworth Gen Jubal Early Gen Philip H Sheridan Horatio G Wright Gen William T Sherman Gen J B Hood John A Logan H W Slocum Jefferson C Davis Thomas J Wood Capt John A Winslow The Union Generals: Maj-Gen Lovell Rousseau, Maj-Gen Thomas E Crittenden, Brig-Gen John M Brannan, Brig-Gen George W Morgan, Maj-Gen William S Rosecrans, Brig-Gen Thomas J Wood, Maj-Gen George H Thomas, Maj-Gen A McDowell McCook Lieut. William B Cushing Gen W H C Whiting. Fighting Men (Union and Confederate): Member of Washington Light Infantry Louisiana Zouave Mississippi Rifleman Rhode Island Marine Artillery Member of Burnsides Riflemen Member of Sixth Massachusetts Regiment Private of the Seventh Regiment One of Wilsons Zouaves Ellsworth Zouave New Jersey State Militia man New York State militia man Virginia Volunteer Infantry man Duryees Zouaves Member of Eleventh Indiana Regiment Kentucky Rifleman Member of First Pennsylvania Regiment North Carolina Mounted Rifleman Member of First Maryland Regiment The Havelock Marine Artillery man at Manassas Tennessee sharp shooter Member of Corcorans Sixty-Ninth New York Member of Grayson Dare-devils Member of Fourteenth Virginia Cavalry Member of Georgia Heavy Infantry Member of Alabama Light Infantry Member of Virginia Artillery Rockingham Battery Member of Black Horse Cavalry Member of Cavalry of Hamptons Legion A Hawkins Zouave One of Sibleys Texas Rangers Berges sharpshooter Louisiana Native Guard Member of Excelsior Brigade Graves of the Eleventh Ohio Battery-men Monument of Texas Martyrs Monument erected by Hazens Brigade at Murfreesboro John Clem, probably the youngest person to bear arms in the Civil War.

Battle Sites: Big Bethel Battlefield Remains of the redoubt at Hampton Bridge Romney battleground Bulls Run battleground Remains of Fort Jackson, at the Long Bridge Burning of Hampton Battlefield of the Seven Pines Battlefield of Malvern Hills Monument and Battleground near Groveton Wises house, South Mountain battlefield Battlefield on South Mountain View of the Antietam Battlefield Scene in Fredericksburg on the morning of the 12th View on the Iuka battleground Battle ground at Chickasaw Bayou Battle ground near Jackson Champion Hills Battle Ground Place of Jacksons attack on Howard Scene of Cavalry battle at Hanover The Missionaries or Missionary Ridge Slope of Lookout Mountain View of Lookout Mountain and Valley from Chattanooga Pulpit Rock The place where Sedgwick was killed Spottsylvania Court House View on Cool Arbor Battle-ground Battlefield of Resaca View on the Atlanta Battleground Battleground near Jonesboro Ruins of Georgia Military Institute, Marietta View on the battleground at Franklin Ruins on Montgomery Hill Ruins of Charleston Ruins of Confederate foundery Ruins at the Landing Place, Selma. Hospital and Sanitary: The Cooper-shop Volunteer refreshment saloon and hospital in 1864 The Union Volunteer refreshment saloon in 1861 Philadelphia Firemens ambulance A hand litter Mules carrying wounded men Confederate hospital at Monterey Cabin of a hospital steamer on the Tennessee River Hospital at Fair Oaks Interior of a chapel of the Christian Commission Jarvis Hospital Seal of the Sanitary Commission. Maps and Plans: The Cotton Kingdom in the United States Plan of Fort Moultrie in December 1860 Plan of Fort Sumter in 1860 Plan of Charleston Harbor and vicinity, January 1861 Map of Pensacola Bay and vicinity Map of Norfolk and vicinity The department of Annapolis Military position at Cairo Map showing first defenses of Washington March to Philippi From Pig Point to Big Bethel Battle at Big Bethel Seat of war in Western Virginia The field of operations at Manassas Field of operations at Manassas, July 16-19 Topography of the battlefield at Bulls Run Map illustrating the Battle of Bulls Run Map showing the defenses of Washington Sigels Field of Operations Plan of the Battle of Wilsons Creek Siege of Lexington Field of operations against Belmont Battle of Belmont Region of military operations in western Virginia Operations near Cape Hatteras Fort Walker, Hilton Head Plan of battle at Port Royal entrance Plan of Fort Beauregard Coast Islands, 1862 Channels of Charleston Harbor Map of the Battle of Balls Bluff Attack on Roanoke Island Map of the Battle of Mi1l Spring Region of military movements in eastern Kentucky Plan of the fortifications at Columbus Plan of Fort Henry Position of the gunboats in their attack on Fort Donelson Plan of the siege of Fort Donelson Map of the operations of Pope and Foote Battlefield of Pea Ridge Position of the National troops in the Battles of Shiloh The siege of Corinth Cumberland Gap and its dependencies Operations near New Berne Operations in Burnsides department Siege of Fort Pulaski Attack on the Forts Plan of Fort Jackson New Orleans and its vicinity Battle of Williamsburg Operations in Upper Virginia Battle of Seven Pines and Fair Oaks Battle of Mechanicsville Position of troops on Malvern Hills Harpers Ferry Battle of Antietam Battle of Fredericksburg Appearance of army huts Fortifications at Mumfordsville Battle of Iuka Operations in Kentucky, Tennessee and Northern Alabama Battle of Corinth Murfreesboro, position, Dec 31st Murfreesboro, position, night of Dec 31st Murfreesboro, position, Jan 2nd The Battle of Chickasaw Bayou Peninsula opposite Vicksburg The Yazoo Region Griersons Raid Military operations around Vicksburg Operations in Mississippi The defenses of Port Hudson Region of military operations from the 27th of April to the 6th of May, 1863 Operations of Major General J.

Peck Commanding at Suffolk, Virginia Position of the Army of the Potomac, July 1 Battles at Gettysburg, July 1, 2 and 3 Operations in Northeastern Virginia, Pennsylvania and Maryland Position of the armies at Mine Run, November 30 The Battlefield of Chickamauga and its vicinity Chattanooga and vicinity Operations in Tennessee and Northern Alabama Military operations in North Carolina Siege of Charleston Operations in Louisiana Region of the Red River Expedition Operations in Missouri and Arkansas Fortifications around Richmond Battle of the Wilderness Battle of Spotsylvania Courthouse Confederate defenses between Hampton and Williamsburg Operations in southeastern Virginia Position on the North Anna Battle of the Monocacy Defenses of Richmond and Petersburg Battle of Winchester Operations at Fishers Hill and Cedar Creek Operations in Tennessee, Georgia and Northern Alabama Fortifications around Atlanta Campaign from Dalton to Atlanta The march from Atlanta to the sea Battle of Franklin Naval battle off Cherbourg Entrance to Mobile Bay Bombardment of Fort Fisher Shermans march through the Carolinas Fortifications around Mobile Defenses of Mobile on the eastern shore Selma and its defenses Retreat of the Confederate forces from Richmond and Petersburg. Portraits: Caleb Cushing Washington Hunt George Ashmun W. Brownlow William L Yancey John Caldwell Calhoun Henry A Wise Howell Cobb Jacob Thompson Edmund Ruffin A G Magrath Robert Toombs Alexander H Stephens Oseph E Brown Lucius Q C Lamar John C Breckinridge James Buchanan Lawrence M Keitt Lewis Kass Thomas L Klingman Alfred Iverson Louis T Wigfall John Jay Crittenden Charles G Memminger Robert Barnwell Rhett Robert Anderson Samuel Cooper Peter Hart Mrs. Anderson John B Floyd Joseph Holt James L Orr Francis W Pickens David L Yulee Adam J Slemmer John A Dix Samuel Houston John Letcher R M T Hunter Thomas H Hicks Isham G Harris Bergiah Magoffin Dorothea L Dix Clairborne F Jackson Israel Washburne Jr John A Andrew William Sprague Edwin D Morgan Andrew G Curtin William Dennison Jr Austin Blair Richard Yates Alexander W Randall Samuel J Kirkwood Alexander Ramsay William H Seward Andrew Johnson Clement C Clay Jr John Slidell Judah P Benjamin John Tyler Beverdy Johnson John H Reagan Benjamin McCulloch George P Kane Isaac W Hayne John Forsyth David E Twiggs Isaac Toucey Martin J Crawford Gustavus Vasa Fox Milledge L Bonham James Simons P G T Beauregard Le Roy Pope Walker Simon Cameron Gideon J Pillow S R Mallory James M Mason Hiram Paulding William A Buckingham Cassius M Clay Luther C Ladd, a young mechanic of Lowell John Ellis Wool Stephen A Douglas Albert Pike John Ross Francis H Pierpont Theodore Winthrop Robert Patterson Hannibal Hamlin, Vice President of the United States Salmon P Chase, Secretary of the Treasury Charles Francis Adams William L Dayton Henry Wilson John H Winder Barbara Freitchie James Louis Pettigru John Bright Lord Lyons Count Mercier James A Seddon Clement L Vallandigham John A Dahlgren Robert Ould Henry W Bellows Vincent Colyer. Government: The Senate Chamber in 1860 Seal of the State Department Hall of the House of Representatives Signatures of the Committee on Secession Ordinance Seal of South Carolina Banner of the South Carolina Convention Signatures of the Committee on Address to the Slave Labor States South Carolina Medal Banner of South Carolina Residence of the Commissioners Signatures of the South Carolina Commissioners North front of the White House, from Pennsylvania Avenue Facsimile of a part of Slidells letter The Dix Medal The White House at Montgomery Street view in Montgomery in 1861 The State House The East Room Government bakeries at the Capitol Room in which the Convention met at Wheeling Seal of West Virginia Seal of the War Department Daviss residence in Richmond Seal of the Treasury Department The Senate Chamber at Montgomery Confederate State Department Seal Confederate Flag. These books are more than 144 years old. Please be sure to add me to your List of Favorite Sellers.

Don't miss out on any of my latest listings. NEETMOK BOOKS IS A REGISTERED MEMBER OF EBAYS VERO PROGRAM. When you prepare your listings you generally should use only material text, photographs, etc. And trademarks/names that you created or own yourself or licensed from the owners.

Item description text; lists of contents, lists of illustrations/photos; scanned images, etc. UNAUTHORIZED USE OF ITEM DESCRIPTION TEXT INCLUDING SUMMARIES OF CONTENTS, ILLUSTRATIONS, ETC. PHOTOS OR OTHER PROPRIETARY INTELLECTUAL PROPERTY IS STRICTLY PROHIBITED AND WILL BE REPORTED TO EBAYS VERO DEPARTMENT FOR IMMEDIATE ACTION. The item "1866 CIVIL WAR SET ILLUSTRATED HISTORY UNION CONFEDERATE MILITARY LINCOLN US CSA" is in sale since Saturday, December 25, 2021.

This item is in the category "Books & Magazines\Antiquarian & Collectible". The seller is "neetmok" and is located in South Salem, New York. This item can be shipped to United States, Canada, United Kingdom, China, Mexico, Germany, Japan, Brazil, France, Australia, Denmark, Romania, Slovakia, Bulgaria, Czech republic, Finland, Hungary, Latvia, Lithuania, Malta, Estonia, Greece, Portugal, Cyprus, Slovenia, Sweden, South Korea, Indonesia, Taiwan, South africa, Thailand, Belgium, Hong Kong, Ireland, Netherlands, Poland, Spain, Italy, Austria, Bahamas, Israel, New Zealand, Singapore, Switzerland, Norway, Saudi arabia, Ukraine, United arab emirates, Qatar, Kuwait, Bahrain, Croatia, Malaysia, Chile, Colombia, Costa rica, Panama, Trinidad and tobago, Guatemala, Honduras, Jamaica, Barbados, Bangladesh, Bermuda, Brunei darussalam, Bolivia, Ecuador, Egypt, French guiana, Guernsey, Gibraltar, Guadeloupe, Iceland, Jersey, Jordan, Cambodia, Cayman islands, Liechtenstein, Sri lanka, Luxembourg, Monaco, Macao, Martinique, Maldives, Nicaragua, Oman, Peru, Pakistan, Paraguay, Reunion, Viet nam, Uruguay.
Year Printed: 1866
Country/Region of Manufacture: United States
Topic: Civil War (1861-65)
Binding: Leather
Region: North America
Illustrator: Lossing
Author: Benson J. Lossing
Subject: Military & War
Original/Facsimile: Original
Language: English
Publisher: Childs
Place of Publication: Philadelphia
Special Attributes: Illustrated