1863 Confederate Civil War newspaper day after Pres LINCOLN's GETTYSBURG ADDRESS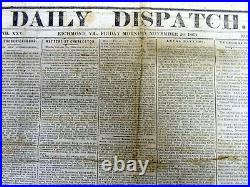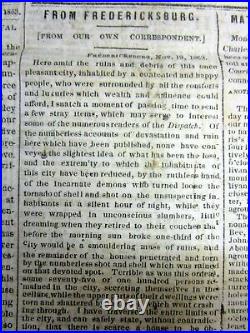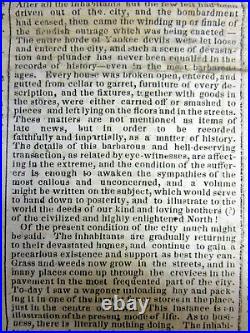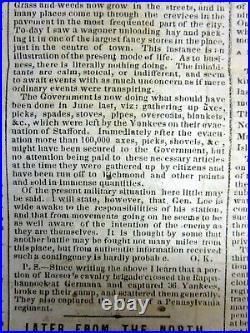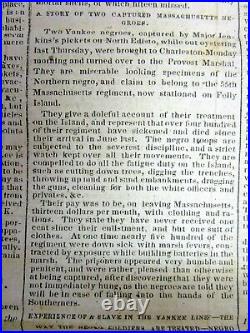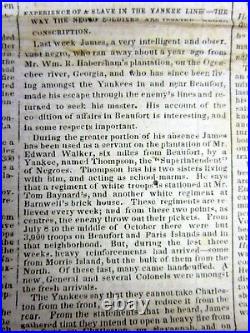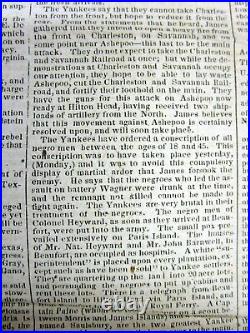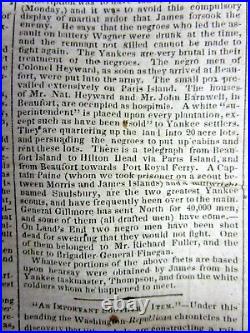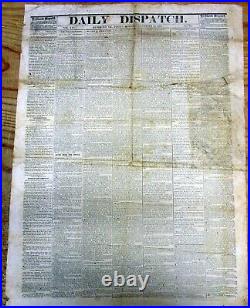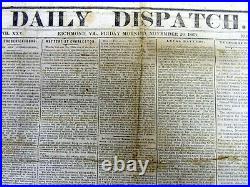 1863 Confederate Civil War newspaper day after Pres LINCOLN's GETTYSBURG ADDRESS. 1863 Confederate Civil War newspaper published the day after President ABRAHAM LINCOLN gave his famous GETTYSBURG ADDRESS. SEE PHOTO(s) - COMPLETE ORIGINAL CONFEDERATE single sheet Civil War NEWSPAPER, the. (VA) dated November 20, 1863. This original Confederate Civil War newspaper contains news of the Civil war including the aftermath of the BATTLE of FREDERICKSBURG, Virginia.

It also contains news coverage of NEGR0 Union soldiers and the experience of NEGR0ES behind the "Yankee" lines. The most interesting content in this issue is what it DOES NOT MENTION. This Confederate Civil War newspaper, published the very day after Abraham Lincoln gave his famous Gettysburg Address, does not contain any mention of Lincoln's visit to Gettysburg nor any mention of his famous speech. This is similar to the Sherlock Holmes quote from the book The Adventure of Silver Blaze.

The dog that didn't bark refers to THE significant non-event in a given scenario. Or the expected event that didn't happen, and thus represents a clue. In effect, it's an absence or lack that speaks volumes. "The Adventure of Silver Blaze", one of the 56 Sherlock Holmes short stories written by Sir Arthur Conan Doyle, is one of 12 in the cycle collected as The Memoirs of Sherlock Holmes. It was first published in The Strand Magazine in December 1892.

Doyle ranked "Silver Blaze" 13th in a list of his 19 favourite Sherlock Holmes stories. [2] One of the most popular Sherlock Holmes short stories, "Silver Blaze" focuses on the disappearance of the eponymous race horse (a famous winner, owned by a Colonel Ross) on the eve of an important race and on the apparent murder of its trainer. The tale is distinguished by its atmospheric Dartmoor setting and late-Victorian sporting milieu.

It also features some of Conan Doyle's most effective plotting, hingeing on the "curious incident of the dog in the night-time": Gregory (Scotland Yard detective): Is there any other point to which you would wish to draw my attention? Holmes: To the curious incident of the dog in the night-time.

Gregory: The dog did nothing in the night-time. Holmes: That was the curious incident. This Confederate Civil War newspaper is complete as a single sheet issue. The single sheet newspaper format was used by many Southern newspapers due to the scarcity of paper in the South during the Civil War.

This lack of paper was a result of the South being cut off from their normal paper supplies, previously obtained from the Northern paper mills. Most Confederate Civil War newspapers lack bold single column headlines as were common in Northern newspapers; however, the defiant prose found in Southern newspapers more than makes up for the lack of headlines! Confederate Civil War newspapers are much scarcer, and much more in demand with collectors than Northern newspapers. This listing includes the complete entire original newspaper, NOT just a clipping or a page of it. Every item we sell is an original newspaper printed on the date indicated at the beginning of its description. This is truly SIX CENTURIES OF HISTORY that YOU CAN OWN!

Goldman is a consultant to the Freedom Forum Newseum and a member of the American Antiquarian Society. Let our 50+ years of experience work for YOU! We have hundreds of thousands of historical newspapers (and their very early precursors) for sale. We are located in the charming Maryland Eastern Shore town of OXFORD, Maryland.

With an inventory of nearly a million historical newspapers (and their early precursors) we are likely have just the one YOU are searching for. WE ARE ALSO ACTIVE BUYERS OF HISTORICAL NEWSPAPERS, including large and small personal collections, bound volumes, significant individual issues, or deaccessions from libraries and historical societies. Powered by SixBit's eCommerce Solution. The item "1863 Confederate Civil War newspaper day after Pres LINCOLN's GETTYSBURG ADDRESS" is in sale since Thursday, July 8, 2021. This item is in the category "Collectibles\Militaria\Civil War (1861-65)\Original Period Items\Newspapers".

The seller is "qrst" and is located in Oxford, Maryland. This item can be shipped worldwide.