Pair of 1861 Confederate Civil War Letters MORGAN RANGERS, 1st Louisiana Cavalry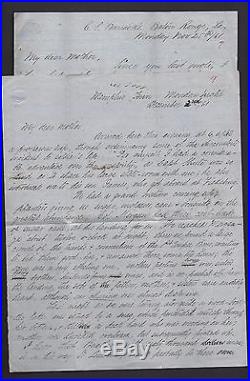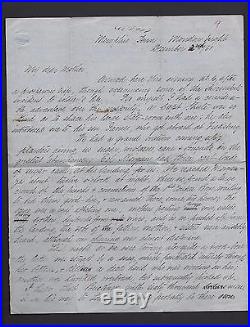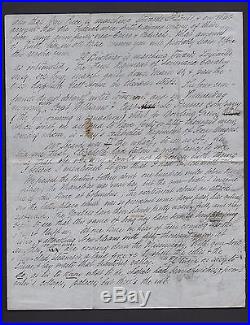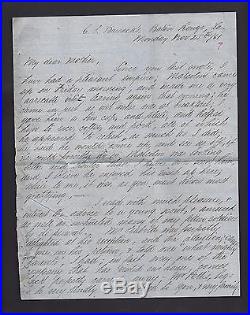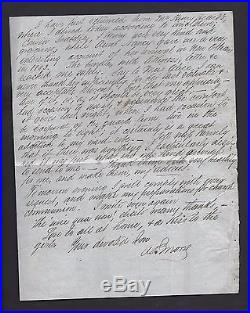 This historic pair of Confederate Civil War letters were written by Alexander. Older Morse siblings mentioned in these letters include Edward. Younger siblings all girls included Rosa (1844), Mary (1848), Helen (1852), and Martha (1854). In 1861, at age 19, Porter left his studies at Princeton University and enlisted in Co. I (Morgan Rangers), 1st Louisiana Cavalry.

Most of the troopers enlisting in this company were from Point Coupee Parish, Louisiana. In June 1863, Porter was one of the Rebel officers who, as a prisoner of war, planned & executed the overthrow of the captain, crew, and prison guards aboard the U.

As they were being taken from Fortress Monroe to Fort Delaware (a northern prison). Alexander graduated from Georgetown University in law. Barracks, Baton Rouge, Louisiana Monday, November 25, 1861.

Since you last wrote, I have had a pleasant surprise; Malcolm came up on Friday morning and made me a very agreeable visit, leaving again that evening. He came in just as our mess was at breakfast. I gave him a tin cup and plate and helped him to rice, coffee, and pork all of which he appeared to relish as much as I did. He said he would come up and see us off if he could possibly do so. Malcolm was looking better and stouter than I have ever seen him and I believe he enjoyed his visit up here while to me it was, as you must know, most gratifying. I read with much pleasure & interest the advice to a young scout, & amused as well as instructed many of my fellow soldiers by its perusal. Seabold was perfectly delighted at his reception and the attention, came to me on his return & told me what mighty good parents I had.

In fact, every one of the company that has visited our house comes back perfectly carried away. Pettis begs to be very kindly remembered to you & my family. Henry Heards where I dined today according to invitation.

Cousin Isabella & Henry were very kind and gracious, while Aunt Nancy gave me a very interesting account of her arrival in New Orleans in 1803. The bundle, with likeness, letter &c.

Say to Miss Alice I can never thank her sufficiently for her last valuable & very acceptable present, but that my appreciation of it, is as it should be very great. I had occasion to use it & experience the comfort it gives last night when I had occasion to be Corporal of the Guard from two in the morning to eight.

It certainly is a great addition to my ward-robe. Tell Miss Parmly that if there was anything I particularly desired, it was just what she was kind enough to send to me. Thank them both very heartily for me and make them my adieus.

Tomorrow evening I will comply with your request and make my preparations for church communion. Love to all at home & a kiss to the girls. Baton Rouge, Louisiana November 28th 1861 9 oclock in the morning. Pettis is kind enough to take my trunk back with him to the city. In it will be found a daguerreotype with the direction on it.

There is also a bundle of old clothes with a silver watch enclosed. They belong to a messmate of mine who requests me to have them kept with my things. The watch does not go and is only valuable as a family piece. Is not yet in sight.

Malcolm probably could not come up. Everything is in readiness & we only wait the boat to go aboard.

My horse stands at the door, bridled, saddled & equipped. Pettis has been very kind & attentive to me and speaks in very high terms of you.

Says in a few minutes he felt as if he knew you well. Tell Nathan I guess I will be in an engagement before him, and if I represent this generation in the first fight, I will try & do them the fullest credit. Tappan called at the barracks to see me yesterday evening.

The Bonnie Blue Flag is a favorite song among our men and may be continually heard wherever there is a Morgan Ranger. In the regiment our company is called Co.

I & form with Capt. Williams a fine company the fourth squadron. I enclose our camp song which we will sing with a full chorus at our departure, and as we land at Morganza to make our adieus to the ladies of St. Coupee who will, we understand, be in full force to give us a hearty greeting and a God speed. The aire is Bennie Havens as Nathan knows, if you might send him a copy. It has been printed but I cannot at this late hour procure one.

Boyer, & all my friends & relations. I will write you at Memphis if we remain there any time & on my arrival in Columbus will, if granted the facilities, give you my impressions of the city, soldiers, generals & position, & that my notes may be of more interest, I will give you facts when I know them to be facts & not rehearse rumors for facts. As I before told you, Malcolm paid me a very pleasant visit & gave me some excellent advice as to wounds, gunshots, &c. That will probably be very serviceable to me in or after a battle. Already the wealth & beauty of Baton Rouge are gathering in to see us off.

Much love to all at home & a remembrance to the servants. Kiss the girls for me (I mean my sisters) for I could impose so great a task upon you as to kiss them all. I will send whatever may interest you, Nathan, or Malcolm, from the seat of war. Robertson has been appointed our commissary & I learn a better man for the position could not be found We are expecting the boat every minute. Let me hear from you when you can write.

[Morses mother Margaretta adds a note on the verso, in part]. Dear Nathan, Please to take care of these letters for me. They may be the last I shall ever receive from him. Also, I want you to keep for me Porters letter you should have received last Saturday.

George handed your letters & papers to your Uncle Johnny as he went on board the steamboat last Saturday. The doctor put them in his carpet bag instead of in the clerks office & left them at Harlem [Plantation] ¹ requesting they should be sent on to you by last Wednesdays boat.

Porters letter was written in pencil but was a very spirited & interesting one of four pages giving an account of their first days march from Morganza to Baton Rouge. Keep it for your affectionate mother. ¹ Harlem Plantation was the childhood home of Porters mother, located 35 miles south of New Orleans on the Mississippi River.

We're members of the American Philatelic Society, the U. Philatelic Classics Society, the Confederate Stamp Alliance and the Illinois Postal History Society.

Some of our letters have been transcribed and nicely presented for future genealogists and history buffs on the Spared & Shared blog. The item "Pair of 1861 Confederate Civil War Letters MORGAN RANGERS, 1st Louisiana Cavalry" is in sale since Friday, March 18, 2016. This item is in the category "Stamps\United States\Covers\Postal History". The seller is "cmvolz" and is located in Washington, Illinois.

This item can be shipped worldwide.