26pc 1850-90s CONFEDERATE McMinnville 35TH TN Tennessee CIVIL WAR ARCHIVE Byers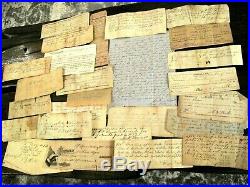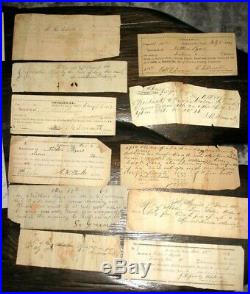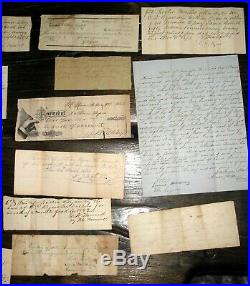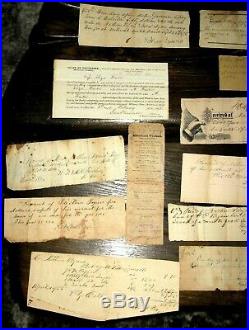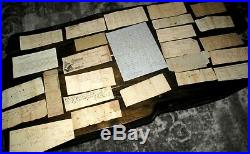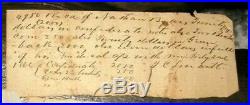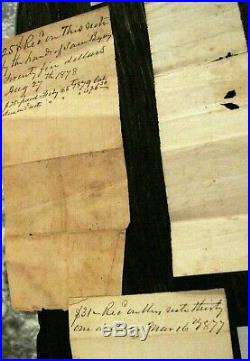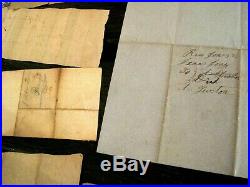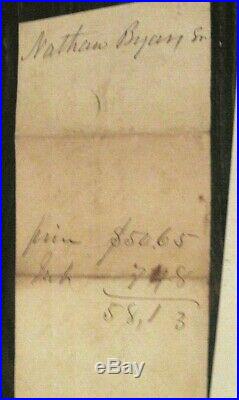 VERY RARE, ORIGINAL AND FASCINATING SOUTHERN ARCHIVE FROM CONFEDERATE SOLDIER NATHAN BYARS AND FAMILY OF MCMINNVILLE, TENNESSEE. PVT NATHAN BYERS SERVED WITH THE 35TH TENNESSEE INFANTRY, COMPANY C.

AND IN FACT SERVED ALONGSIDE THE FEARED TEXAS RANGERS AT SHILOH! THE ARCHIVE CONSISTS OF 26 PIECES INCLUDING LETTERS, CORRESPONDENCE, RECEIPTS AND SOME POLITICAL MATERIAL FROM MCMINNVILLE, AND PAINTS A PORTRAIT OF THE REGION AND BYERS' FAMILY'S LIVES FROM BEFORE AND AFTER THE FAILED REBELLION. DOCUMENTS ALL IN GOOD, READABLE SHAPE, AS SHOWN, IN VARYING SIZES. +AN ARCHIVE OF THIS LOCALE AND CONTENT IS RARE, AND IS HISTORICALLY AND INSTRINSICALLY VALUABLE BOTH TO FAMILY, CIVIL WAR HISTORIANS AND LOCAL BUFFS +. McMinnville, Warren County, Tennessee, USA.

12 Jan 1894 (aged 85). Nathan Byers' Thirty-fifth Tennessee Infantry.

Shiloh after battle report: Reports of Col. This regiment afterwards known as the Thirty-fifth.

ARMY, Camp, near Corinth, Miss. SIR: In compliance with your request, I have the honor to make the following report, showing the positions occupied by my command during the eventful scenes of the 6th and 7th instant at Shiloh, in Hardin County, Tenn. My regiment was detailed to do picket duty on Saturday night [5th], and was thrown out within 3 or 4 miles of the enemy's encampment.

At daylight Sunday morning we were ordered to advance with the balance of your brigade, the Sixth Mississippi, Col. Thornton, on my right, and the Twenty-fourth Tennessee, Lieut. We advanced some 3 miles, when our pickets commenced a sharp and lively skirmish. We continued to advance and drove them before us to within 500 yards of the Federal encampment.

They opened a terrific fire upon our columns. A deep ravine, full of green briers and grape-vines, separated us from Col. My right was exposed to a severe flank fire from a battery and from musketry and other small-arms. We were at the foot of a long hill, upon which the enemy were hidden. Hanner, Company A, and several others were killed at this place and many wounded.

Patton, was in advance of us and deployed as skirmishers, but was soon called in to sustain the Twenty-fourth Tennessee, on the left, which it performed gallantly and promptly. The firing was constant and continuous for half or three-quarters of an hour, when one of the aides of Gen.

Beauregard came to me and said the battery on the right must be charged and silenced at all hazards. I gave the word and my brave boys promptly responded to it.

We charged, dispersed the enemy, and silenced the battery. As the enemy retreated my marksmen had better opportunity for trying their skill, and well did they improve it, as was proven by the number of the enemy who there fell. We continued on at double-quick for near a mile, crossing their first encampment, and formed line of battle at the foot of the next hill. At this time the Twenty-third Tennessee, Lieut. Neill, and the Sixth Mississippi, Col.

Thornton, constituting the right wing of your brigade, getting separated, you had to go to their aid. I was then directed, as senior colonel, to take command of all the troops on my left by one of Gen. Beauregard's staff, which I did, and formed them in line of battle, to keep back their right wing. Thus, with two Louisiana regiments on the left of your brigade, the Texas Rangers on the extreme left, on Owl Creek, a battery in our rear, the Louisiana cavalry as pickets, and the Fifteenth Arkansas, Lieut.

Patton, as skirmishers, we advanced at once, driving the extreme right of the enemy for at least a mile before us. They halted at their third encampment and gave us a stubborn fight. The Fourth Kentucky and a battalion of Alabama troops were here on our right, sheltered under the brow of a hill. They had been giving the enemy a hot fire, but ceased as we came up. My regiment then opened a terrible fire upon the enemy and kept it up alone for a short time, when the Twenty-fourth Tennessee joined with us in firing upon them. Freeman, commanding a Tennessee regiment, with a squadron of cavalry, then moved rapidly to the left and opened fire upon their right flank. This, in conjunction with our fire in front, told with terrible effect, and they retreated, leaving many of their dead and wounded behind them.

The remainder of the evening and during the next day [Monday] we fought under your immediate command. It is unnecessary for me to enumerate and recite the many charges and the many incidents that occurred on Monday, as you were in command and witnessed them all. In conclusion, I beg leave to say that my men, though inexperienced, fought well and bravely, and never failed to charge or rally when I commanded them so to do. As far as my observation went all the Tennessee troops fought well. So it was with the Arkansas troops, the Mississippi, the Kentucky, and the Alabama troops on the left.

All of them fought nobly and gallantly and against great odds. My regiment captured about 100 prisoners during the two days' fighting. With great respect, your obedient servant, BEN. SIR: In obedience to Special Orders, No.

Of date the 21st instant, in relation to the number of men of this regiment engaged in the battles at Shiloh on the 6th and 7th instant, I have to report as follows, to wit: Number detailed as infirmary or hospital corps................. 29 Number detailed to go with the artillery....................... 6 Number detailed to go with the sappers and miners.............. 1 Number detailed as wagon guard................................. 3 Number detailed to guard ammunition............................

41 Number of non-commissioned officers and privates engaged....... 328 Number of company officers [commissioned]...................... 33 Number of field officers....................................... 3 Number of staff officers....................................... 369 In reply to that portion of the order which refers to the individual action of the officers and men of this regiment on the battle-field of Shiloh, I have to say the officers and men of the regiment fought well and acted with great coolness and bravery, considering their inexperience. Such was the conduct of most of them on the field. John Macon's company [F] Second Lieut. Morrow is reported as having left the field Sunday morning under pretense of assisting a wounded brother, though he was positively forbidden so to do by his captain, and did not again return to his company during the two days' fighting. Private Dimmon Martin, of the same company, showed great timidity, and had to be repeatedly ordered to fire his gun before he would do so. Wood's company [G], commanded by Acting Lieut. Forrest's company [C], Private Samuel Evans displayed great coolness and courage. After being severely wounded, the ball passing through the cheeks, he refused to go to the rear, but remained and fought for a considerable length of time, cheering on the men and loading and shooting as fast as he could. Towles' company [B], commanded by Lieut. Smith, Douglass Brien, and J. Pennington are mentioned as having distinguished themselves by their bravery and daring.

In Company D, commanded by Lieut. Jones, and subsequently, after the wounding of Lieut. Smartt, Private John Roberts, a very young soldier, behaved with the greatest coolness and bravery throughout the whole action.

He was frequently in advance of his company, was knocked down twice by spent balls, and had his gun shattered to pieces. He is but fifteen years old, but displayed the coolness and courage of a veteran. Brewer is spoken of in the highest terms for cool bravery and gallant bearing.

Following the lead and imitating the example of his captain, one of the bravest of the brave, he was ever at the head of the men, his gallant captain only in advance, cheering them on to the conflict, and ever and anon dropping one of the Yankees as his eye would chance to light upon him. Privates Abe Boren and Isaac L. Ray, of the same company, also greatly distinguished themselves, and are spoken of in the highest terms by their comrades and their captain. Stewart's company [K], was also conspicuous throughout the engagement for coolness and gallant behavior. It is no doubt invidious to single out instances of this kind.

Officers and men all did well, considering that they were raw and inexperienced, and they were out Saturday night, the whole regiment on picket duty, and consequently unrefreshed. There is one other exception, to which duty compels me to allude.

Dearman, commanding company I, acted in a very unbecoming and cowardly manner. Several times I had to threaten to shoot him for hiding far back in the rear of his men. Second Brigade, Third Army Corps.

Source: Official Records: Series I. 10 Chickamagua after battle report: Report of Col.

Georgetown Mills, October 30, 1863. SIR: I have the honor to submit the following report of the action taken by my command the Thirty-fifth Tennessee Regt. In the engagements of September 19 and 20, on Chickamauga River: On Saturday morning, September 19, my command moved up to within about 2 miles of Lee and Gordon's Mills, from the direction of La Fayette, on the Chattanooga and La Fayette road, in connection with the remainder of the brigade and the division, to support Maj.

Breckinridge, who had position on the left of our line of battle. At about 11 or 12 m. The command was ordered around to the extreme right, and wading the Chickamauga, took position near Underwood's steam saw-mill a little before sunset. Shortly after this the command was ordered forward, and after having advanced about 400 yards, passing the line formed by Gen. Liddell's command and other troops, we encountered the enemy in strong position, one for which the opposing forces had been contending throughout almost the entire day.

Newboy, of Company a, to throw forward his company as skirmishers, thus leaving Capt. Mitchell on the right and Capt. Here the left and center of our brigade became engaged, the firing from both artillery and small-arms becoming general and heavy.

The engagement was fierce, lasting for about one hour. My command being on the right of the brigade did not fire but a few shots for the first half hour.

Hill and staff came riding by, and complimented my command for the uniform and steady advance they were making, and their cool and manly conduct, he remarking at the same time that a battery would soon open upon the enemy from our rear with shell, grape, and canister; that he had ordered it for its moral effect. Hill had not passed on more than 200 yards to our right when the battery did open, but instead of reaching the enemy they threw their missiles into my command, which was very annoying. I immediately galloped back and soon had the firing stopped.

A cavalry force here also fired upon us through mistake, but fortunately, however, doing us little damage. This error, too, I speedily corrected, and moving on forward met and routed the Sixth Indiana Regt. Taking some few prisoners, one of them being an orderly to Maj.

Campbell, commanding Sixth Indiana, and also 2 horses belonging to the major. The engagement lasted about one hour, resulting in the dislodgment of the enemy, who fell back in confusion about three-quarters of a mile to the position in which we attacked them on Sunday morning. We bivouacked upon the ground for which the contest had been so hotly waged during the day, the men suffering considerably during the night from cold, their clothing being yet wet from wading Chickamauga Creek, and no fires being allowed, owing to the close proximity of the enemy. My loss was slight, having but 2 men slightly wounded. I cannot close my report of this engagement without remarking that, from what I myself saw and from reports from others of the brigade, Gen.

Polk and staff acted with great coolness, discretion, and gallantry. On the next morning (20th), the command was awakened very early, I anticipating that the battle would be renewed by daylight.

We, however, waited in suspense until about 9. When we were called to attention and ordered forward. We very soon found the enemy in a position strong by nature, and rendered doubly so by breastworks of logs, rocks, and rails, erected during the night.

In fact, the position was almost impregnable. Polk rode up to me through a shower of shot and shell, and ordered me to hold this position and the day was ours, and right gallantly did my little command, already reduced nearly one-half, comply with the orders given, subjected as they were to a terrific fire from the front and a fire enfilading us from the fortifications on our right.

We held the position as directed for about 2 1/2 hours, when we were ordered back by Capt. Polk's staff, the other regiments of the brigade having retired a few minutes previously. Many of my regiment had already exhausted their ammunition. I retired in good order, the front and rear ranks while retiring fighting alternately with the enemy. I succeeded in bringing off all my wounded, but left those who were killed on the field.

We fell back a distance of about half a mile, when we rested and replenished our ammunition. Mitchell's company, being on the right and in a more exposed position, suffered more severely than the remainder of the regiment, and I must here add that, notwithstanding it was the first engagement in which his command had participated, both he and his company displayed much courage and gallantry.

Our loss here, as well as that of the whole brigade, was very severe, fighting the enemy, as we did, not more than 70 yards from his breastworks. Between 3 and 4 p. The command was again called to attention, and moved by the right flank in order to connect with Gen. Skirmishers were immediately thrown out in advance and a forward movement commenced. Their skirmishers were soon driven in, when we aging became generally and fiercely engaged, they still holding the strong position in which we had engaged them in the morning. They at this point poured into us a most destructive fire from artillery and small-arms, which broke our lines, driving our men back about 100 yards, and a complete rout for a time seemed inevitable. I, however, with the aid of Gen. King, and the officers of my regiment, succeeded in rallying the men, and having reformed our line moved forward to renew the attack. After advancing to the brow of the hill, which was immediately in front of us, I discovered that the regiment composing the left of Gen. Jackson's command was considerably in our rear. I also discovered that Calvert's battery, in our rear, was not engaged, since, owing to the nature of the ground, it was impossible for our artillery to render my efficient service from any position in rear of our line of battle. The enemy's artillery was playing most destructively upon our ranks, where upon I suggested to Lieut. Key, commanding our battery, to plant one section upon the crest of the hill, to which position I ordered it rolled by men from my command as well as from the other regiments composing the brigade. This artillery did noble service in helping dislodge the enemy from his first line of fortifications, dealing out destruction at every discharge. They did noble service until they exhausted their ammunition. During the progress of this artillery duel, my negro boy having failed to bring up my sword, I took a pole or club and with this drove up officers and men of my own command who were shielding themselves behind trees, as well as those on the left of the left regiment of Jackson's brigade. Key had exhausted all his ammunition, we moved forward some 150 yards. Polk informed me that Col. Colquitt, commanding the First Arkansas, had taken possession of the enemy's first line of fortifications and was out of ammunition, and for me to furnish him as far as possible, stating that he wished me to hold the position I then occupied, and also Col. Colquitt to hold highs until we were relieved by Gen. Polk then rode back to request Gen.

Maney to relieve us with fresh troops, when I discovered the enemy wavering in the second line of fortifications and deemed this a favorable moment to advance, which I did in connection with the remainder of the brigade. Before this, however, I had sent Lieut. Martin, of the First Arkansas, to the officer in command of the regiment on Jackson's left, who was still lagging, with instructions to move his command forward.

He (the officer just referred to) not responding, I ordered Lieut. Roberts, of my regiment, to deliver the same instructions. He now moved forward a short distance, but again halted. I then went to him myself, representing myself as Gen. Hill, and told him to advance; that victory was in our grasp. He replied that he was awaiting orders from his brigade commander. I told him that he could retreat without orders, and that he could advance without, and that I took the responsibility of ordering him to do so.

His men at this rose up and moved forward gallantly about 300 yards, when they again came to a halt. I again approached him, demanding the cause. He replied that their ammunition was exhausted. Seeing a willingness to advance on the part of the officers and men, I told him that he needed no ammunition, but to fix bayonets and charge, which they cheerfully did.

In the meantime, I had ordered my major to take charge of the prisoners as they arrived, and not allow the men to be running to the rear on the pretext of carrying back prisoners. He (the major) collected and sent to the rear about 75. Just at this juncture Capt. Douglas, commanding a Texas battery, came to me, asking if he could be of any service with his battery. I had it placed in position and ordered him to throw three shells into the ranks of the routed enemy intending thereby to add to their confusion and demoralization. They had the intended effect. Just at this time Gen. Breckinridge rode up and requested me not to enfilade his men.

I replied that I would not. He immediately passed on to the right. I, taking charge of Col. Colquitt's horse, rode forward with the brigade to the Chattanooga and La Fayette road, where you will recollect, general, you rode up amid shouts and rejoicing.

This closed the day's labor, and we here rested for the night. My loss in the series of engagements was 7 killed on the field and 54 wounded, out of 215 men. I have already made this report too long, but cannot, nevertheless, close without speaking a few words in praise and commendation of some of my officers and men. Deakins did their whole duty in commanding the skirmishers, both day and night and displayed great coolness and courage throughout the entire engagement, or series of engagements. S Newby, Kell, Mitchell, Blair, Alley, Cummings, and Lieut.

S Barnes and Cunningham, commanding companies, with Lieut. S Summer, Boydston, Lewis, Mitchell, Masey, Taylor, Richards, Hatfield, Bonner, Haston, Hamrick, Rawlings, and Dyer, all acted well, performing their whole duty, as they had done on many former occasions. In fact, all my officers, with but two exceptions, did themselves great credit, while but few exceptions can be made in the conduct and bearing of my men. They are certainly entitled to a high degree of praise. Very respectfully, your obedient servant, BENJ.

Source: Official Records PAGE 181-51 KY. The History Of Warren County. Warren County was established November 26, 1807 by an act of the Tennessee General Assembly, becoming the 30th county created in Tennessee. It was organized as a county on February 1, 1808. These commissioners were appointed in March 1810, and on August 4, 1810, they obtained title to a 41 acre tract just north of the Barren Fork River.

Warren County was originally a part of White County created in 1806, and was that portion of White County lying south of the Caney Fork River along the Highland Rim with portions on the Cumberland Plateau on the east and in the Central Basin on the west. It extended to the Alabama border at creation, but was reduced in size by the creation of Franklin County just one week later. Settlement had begun in the area as early as 1800, and consisted largely of Scots-Irish, English, and Hugenots from Virginia, North Carolina and South Carolina. With temperate climate, adequate rainfall, and traversed by the Collins, Rocky and Barren Fork rivers, along with the Hickory, Charles and Mountain creeks, it was well watered and covered with numerous free flowing springs. Heavily forested in the eastern portion, large areas in the western section were treeless, earning for the area the title of "Barrens, " which continues to this day. Warren County was named for Revolutionary War hero Gen. Joseph Warren, the first general killed in the War of Independence.

McMinnville was named for Joseph McMinn, who was speaker of the Tennessee Senate at the time the county was created, and later one of the outstanding Governors of our State. Settlement continued at a rapid pace, with the river valleys being occupied first and the less fertile and mountainous terrain later. By 1810 there were 5725 people in the county, in 1820 10,348 and in 1830 15,351.

At the time of its creation, the county contained some 900 square miles, but this was reduced to 443 square miles by the formation of Cannon, Coffee, Dekalb, Van Buren and Grundy counties during the period from 1836 through 1844. All of these counties were formed from a portion of Warren County.

Since formation of counties as provided by the constitution adopted in 1834 noted that no county boundary could be closer than 12 miles from the county seat of the county from which is was formed, each new county struck their boundary with Warren in a 12 mile arc. This resulted in Warren County becoming almost round in shape by 1844, thus earning it the nickname of the round county. From its earliest days, the population was dependent upon an agricultural economy. The terrain was not conducive to large plantations or large tillable fields. While some cotton was grown, it was never a dominant factor in our economy.

The presence of many oak, chestnut, beech and other nut trees enhanced the raising of hogs, and the adept ability of the settlers to produce fine livestock and mules made the area a prime source of pork and horse stock for use on the great plantations further south. A thriving orchard industry, especially apples, blossomed before the Civil War and apple brandy became one of the major cash crops in the reconstruction years. While slavery was present in the county's society, the diverse agriculture was not geared to slave labor.

Statistics show that only 10 percent of our population was slave, with slave owners being less than 10 percent. Most slave owners rarely owned more than two slaves. During its first 50 years of existence the greatest economic advancement was the building of the Manchester and McMinnville Railroad, which began in 1850 and became operational in 1856. This improved transportation facility allowed the area to progress rapidly.

The location of the Cumberland Female College in 1850, coupled with development of the Central Cotton Factory in the Faulkner's Springs community three miles north of McMinnville gave added impetus to the county's growth. With the coming of the War Between the States, Warren County's sympathies were decidedly for the Southern cause. Initially voting against secession, a strong sentiment against Abraham Lincoln changed feelings and Warren County contributed nearly 2,000 people to the Southern cause over the four-year conflict.

The 16th Tennessee Regiment, the 35th Tennessee Regiment, the 22nd Infantry Battalion, the 84th Infantry Regiment, and two cavalry companies of the 11th Cavalry Regiment were all raised in Warren County. With the railroad being a terminus to North Central Tennessee, Warren County became a prime target of both armies. As a result the county was constantly fought over and reinvaded between seven and 11 times. The area was in shambles by the war's end along with a major loss of manpower.

The effects of reconstruction continued until the 1940s. In the years following the Civil War, efforts were made to develop the mineral and timber resources in the area. Beginning with the organization of the Caney Fork Iron and Coal Company in 1885, and continuing through the days of the Rocky River Coal and Lumber Company, a flourishing lumber business emerged, and numerous lumber manufacturers, beginning with the T. Burroughs Lumber Company, provided work and income to many.

In the early years of the 1900s, the flourishing George C. Brown Lumber Company made several citizens wealthy, earning for the town of McMinnville the title of the Wealthiest little town in the South. The bankruptcy of the company during the great depression of the 1930s wiped out many of those fortunes.

Warren County is known as the Nursery Center of the South. Beginning after World War I, industry, chiefly textiles and lumber, became a dominant source of employment, but the Tennessee Woolen Mills, Read Hosiery Mill and Menzies Shoe Factory, had difficulties during the late 1920s and 1930s. Many moved north to work in the automobile plants.

With the end of World War II, the formation of a Chamber of Commerce in 1950, coupled with the development of the Caney Fork Electric System to provide countywide electricity, and, in the 1960s, a countywide potable water distribution system, industry began moving to Warren County. General Shoe led the parade in 1946, with Oster in 1957, Century Electric (now Magnatek) in 1960, Dezurik in 1963, and Carrier in 1968. Oster's training of tool and die personnel aided the proliferation of a multitude of small tool and die industries which in turn interested other companies, leading to the location of Bridgestone, Calsonic, Gardener Mfg.

A unified school system with modern facilities, branches of Motlow College and Tennessee Tech University and a well-staffed vocational school, give added incentives. Nearly all major religious beliefs have local congregations, and a spacious 18-hole golf course, a civic center for hosting large gatherings, and a four lane connector road through McMinnville from Manchester at I-24 to Cookeville at I-40 display the scenic beauty of our mountains and sparkling rivers. A temperate climate and adequate rainfall make the area increasingly attractive to retirees. Peopled with citizens who are cooperative, industrious, and family oriented, Warren County is a great place to live.

With 434.67 square miles of area, the present population (2010) exceeds 39,000. Local banks show assets exceeding 600 million. The item "26pc 1850-90s CONFEDERATE McMinnville 35TH TN Tennessee CIVIL WAR ARCHIVE Byers" is in sale since Monday, April 22, 2019.

This item is in the category "Books\Antiquarian & Collectible". The seller is "mantosilver" and is located in Spencerport, New York. This item can be shipped worldwide.
Subject: Americana
Place of Publication: McMinnsville, TN
Country/Region of Manufacture: United States
Author: Nathan Byers & J. Smart
Topic: Civil War (1861-65)
Year Printed: 1861
Language: English
Special Attributes: Inscribed
Original/Facsimile: Original
Binding: Loose Pages, Articles