1852 SLAVE MASTERS Confederate NEGRO SLAVERY Black Americana ABOLITION Civil War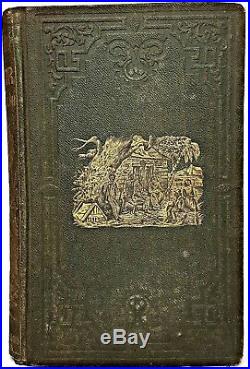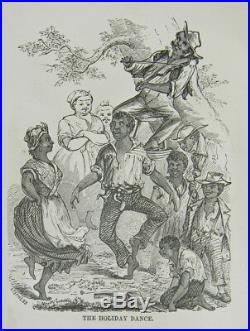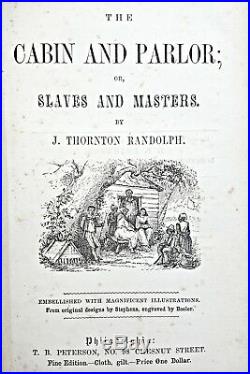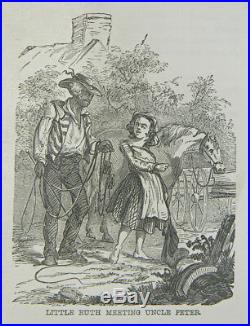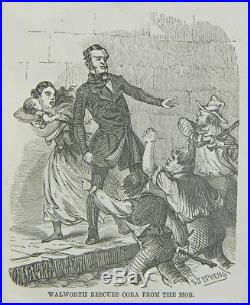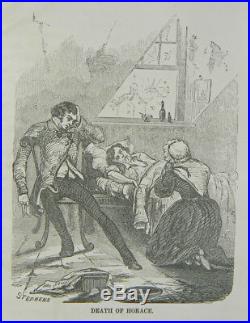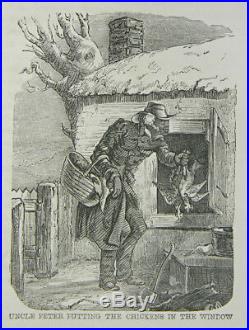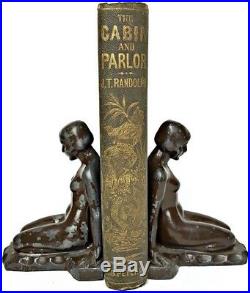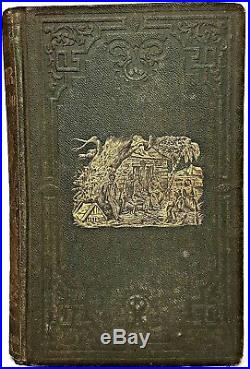 This sale is for an original 1852 FIRST EDITION of " THE CABIN AND PARLOR : OR, SLAVES AND MASTERS " by Charles Jacobs Peterson, under the pseudonym of J. YOU'LL LOVE THIS BOOK!!! It is a novel about life on a plantation in Virginia, where the. Slaves were well treated and loved their masters. And when offered freedom, refused. While the author emphasizes in the preface that this work is not an "answer" to. Or that it was not written to "steal a part of the profits of a lady's (Stowe's) hard-earned reputation, " it is quite clear that this work is exactly that, with a pro-slavery point of view. The publisher's notice even claims that this book was conceived before. Publisher, novelist and editor Peterson contended that Southern Slaves were not particularly worse off than freed slaves or white laborers in the North condemning "premature action" on the question of slavery, and calling for compromise.

The characters and illustrations are, of course, "happy, " comfortable with their enslaved state. It is a 324 page anti-Tom novel portraying the contrasting life of Southern plantation society and Northern cities.

Charles Jacobs Peterson, was a writer from Philadelphia. Not long after Harriet Beecher Stowe's story began running in. An anti-slavery journal famous for its notable abolition articles.

His book was published in September, 1852, less than half a year after " Uncle Tom's Cabin" came out in book form. The novel begins, like many mid-century American novels, with the failure of a father. Courtenay, an apparently wealthy Southern slave-owner, dies suddenly, his family discovers that debt will drive them into exile. The story focuses mainly on the sufferings of Courtenay's children, especially Isabel (who must become a school teacher to try to support her mother) and Horace who goes North to become "a Northern slave" --a clerk in a city store owned by Mr. As a number of characters point out throughout the story, these dispossessed aristocratic whites suffer infinitely more than Courtenay's slaves, most of whom are bought by concerned neighbors, and who are actually in a position to charitably assist Isabel. The only unhappy slaves are the mulatto couple who flee North to the same city in which Horace struggles and dies.

Charles and Cora's story takes the novel into places and events seldom acknowledged in American discourse at this time -- including Northern ghettos, anti-black riots, and a racist "justice" system. The heroes of the story are Uncle Peter, a faithful "servant" (to use the word the novel prefers to "slave"), and especially Walworth, slave-owning son of an old Virginia family, who comforts Horace as he dies, rescues Cora from a racist white mob and marries Isabel, restoring her to Courtenay Hall. The villains are Northern businessmen, whose capitalist exploitations are the social sins that, according to the novel, God is keeping track of against a coming Judgment Day. Published in 1852 , t his book is in GOOD+ CONDITION for its age and especially to be 167 YEARS OLD!!! ALL PAGES & ILLUSTRATIONS ARE PRESENT!!!

And bound with NO TEARS or stray intext markings. It measures 5 1/4" X 7 3/4" and is complete with 324 pages plus 12 pages of the publisher's advertisements for other books. This is an EXTREMELY RARE!!! GET IT WHILE YOU CAN!!! Anti-Tom literature refers to the 19th century pro-slavery novels and other literary works written between 1852 and the Civil War in response to Harriet Beecher Stowe's Uncle Tom's Cabin. Also called plantation literature, these writings were generally written by authors from the Southern United States. Books in the genre attempted to show that slavery was either beneficial to African Americans or that the evils of slavery as depicted in Stowe's book were overblown and incorrect. They adopt a variety of polemical strategies, from defending the plantation as a good place to attacking the North for its treatment of "white slaves" (the working class) to depicting blacks as either happy in slavery or racially unfit for freedom. None of these novels reached the success of Stowe's book, but some went through a number of printings and were widely read in the North.

As a group they're interesting for several reasons -- for what they say about race and about sectionalism, and for what they say about Uncle Tom's Cabin. It's telling to see which of Stowe's characters and scenes get evoked, and how they get rewritten. It's also perhaps surprising to see how many similarities exist, how little some aspects of Stowe's protest novel had to be changed in order to serve the other side of the issue she was protesting against. THE FOLLOWING THREE IMAGES ARE.

AT THE BACK OF THE BOOK. Please see our other books too! The item "1852 SLAVE MASTERS Confederate NEGRO SLAVERY Black Americana ABOLITION Civil War" is in sale since Friday, April 19, 2019. This item is in the category "Books\Antiquarian & Collectible". The seller is "rebel_soldier" and is located in Cameron, North Carolina.

This item can be shipped worldwide.
Year Printed: 1852
Country/Region of Manufacture: United States
Topic: Civil War (1861-65)
Binding: Hardcover
Region: North America
Illustrator: STEPHENS
Author: J. THORNTON RANDOLPH
Subject: Americana
Original/Facsimile: Original
Language: English
Character Family: African-American
Publisher: T. PETERSON
Place of Publication: PHILADELPHIA
Special Attributes: Black Amerina